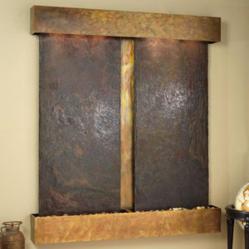 Indoor Fountains has built a reputation for providing the highest quality Indoor Water Features
Arden, North Carolina (PRWEB) September 28, 2012
IndoorFountains.com, an innovator and leader in the water feature industry, has today unveiled new all-natural indoor wall fountains designed to work within either home or business settings. These stunning indoor fountains allow the beauty and stress relief of running water to be brought indoors, with the elegance found in natural materials. The company has released a broad selection of fountains capable of being wall mounted, including a variety of styles and sizes.
Indoor Fountains has built a reputation for providing the highest quality indoor water features and these new indoor wall fountains fall directly in line with that reputation. Natural materials used to create these beautiful water features include copper (both burnished and aged), stone (slate and natural stone), glass (clear and frosted) and stainless steel.
In addition to including natural materials, the company offers a variety of natural designs that can be included with the fountain. Designs available range from whimsical dragonflies etched into the stone to elegant orchids, bamboo and sun designs, moonlight on water, ferns and wave patterns.
The range of elegant designs and beautiful, evocative natural materials available with the new indoor wall fountains ensure that any homeowner can achieve the restful, earth-centric aesthetic they desire.
Business owners wanting to connect their brand with all-natural benefits and the "green" movement can make use of the selection of indoor wall fountains, or they can choose all-natural materials with a custom logo that immediately identifies their business and immediately connects it with the benefits of nature.
From small to large, from plain to elegant, the indoor wall fountains offered by Indoor Fountains can be ideal for any need.
To find out more about the new styles of indoor wall fountains and all-natural materials on offer, visit the company at http://www.IndoorFountains.com.
About Indoor Fountains: IndoorFountains.com is a new niche website developed by Kinetic Fountains, located in the stunning Blue Ridge Mountains in North Carolina. The company is dedicated to giving customers the means to enjoy the incomparable beauty of nature and the health benefits offered by running water in the form of indoor fountains, outdoor fountains, logoed fountains and more.