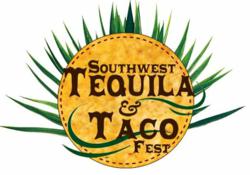 Albuquerque, New Mexico (PRWEB) September 27, 2012
Blue River Productions is preparing for the 2012 Southwest Tequila and Taco Fest to be held from 12 to 5 p.m. Saturday, September 29 at the Villa Hispana at Expo NM. This is a featured event on the SantaFe.com event calendar.
The festival is the first of its kind with many special events and features including:

50 types of tequila (the full list is on TequilaAndTacofest.com)
Local IQ Herradura Margarita Throwdown – Albuquerque's top bartenders will compete to make the best margarita in this official U.S. Bartenders' Guild event. Public judging tickets available for sale.
Tacos and great food by Albuquerque's best restaurants and taco makers (full list available at TequilaAndTacoFest.com)
Best Taco Contest featuring the participating vendors. Public judging tickets available for sale for $25. Judges will taste from 8 to 12 tacos and if of legal drinking age, taste 3 tequila samples if desired.
Free mechanical bull rides
Free piñata whacking and prizes for children 12 and under
Three Sisters (corn, beans and squash) Cooking Demo & Story Time presented by Whole Foods and NMSU ICAN program – cooking demo of calibacitas and stories about the "Three Sisters" in traditional Hispanic and Native American culinary folklore
Live music by Mariachi Nuevo Sonido and Cuban salsa band En-Joy
Santa Fe Tequila Company, a Santa Fe, New Mexico based company will be at the event with its flagship product SilverCoin Tequila
Admission is $10 per person, which includes three tequila tastings, and the first 2,000 people will get free mini tacos. People under the age of 21 and designated drivers are $5 and children two and under are free. People can also participate as judges and rate 8-12 tacos or margaritas in the Best Taco Contest and the Best Margarita Contest. Judging tickets are $25. Additional tequila tastes will be available – five for $10 or 12 for $20.
More information and the full schedule of events is available at TequilaAndTacofest.com.
About SantaFe.com:
SantaFe.com provides locals and visitors to Santa Fe alike the most current interactive platform for events, music, arts, business, dining and lifestyle. SantaFe.com is a division of Hutton Broadcasting, located at 2502 C. Camino Entrada, Santa Fe, NM 87507
Contact Information:
Scott Hutton
SantaFe.com / Hutton Broadcasting
http://www.santafe.com
(505) 471-1067 (Media inquiries only, please)