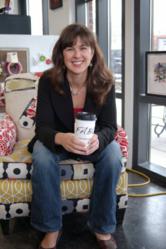 "Command Partners is one of the top firms in the US. This is the place where I want to put my years of experience, creativity and energy to work," says Aussieker.
Charlotte, NC (PRWEB) September 28, 2012
Digital marketing agency Command Partners hires local superstar Amy Aussieker to serve as the new Chief Strategy Officer to expand their reach and cultivate client relationships.
Aussieker brings over 20 years of sales and marketing experience to the team. At Command Partners, she will be responsible for building and maintaining client relationships and contributing to strategic initiatives.
"Command Partners is one of the top firms in the US," says Aussieker. "This is the place where I want to put my years of experience, creativity and energy to work. I can't think of a better fit for my background than Command Partners, given their reputation."
She has been at the top in sales for every position she has held, including small business, large corporations, nonprofits and retail. Over the course of her career, she has won several awards including many top sales awards, a national fundraising record at The Charlotte Chamber of Commerce 2003 and 2004, Top 25 Women in Business Charlotte Business Journal and Top 40 under 40 Charlotte Business Journal. Additionally, she has been recognized on The Charlotte Magazine's VIP List of people who need to be at an event for it to be considered a success alongside Charlotte notables including Cam Newton, Mayor Anthony Foxx, and Michael Jordan.
"Amy is very creative and strategic in her approach with both new and existing clients," said Managing Partner Amish Shah. "She is going to fill a critical role at Command Partners, and will make an impact with our local and global clients from day one."
Aussieker also founded and operates FABO – an art gallery, coffee shop, beer and wine bar - since 2009 and has successfully utilized public relations and social media to build her success in that venture.
Additionally, she has been consulting with the Chambers of Commerce and other businesses on new strategies for market entrance and sales models for years. Aussieker has been in Charlotte for 16 years and has been very active in the community which has not only allowed her to build and maintain relationships and gain an understanding of the local market, but has also given her the drive and mindset to continue building globally.
With the addition of Aussieker, Command Partners continues to add the best talent in Charlotte to its growing team. Command Partners has grown their client base exponentially in 2012, adding a number of international companies to their roster. They are rapidly becoming leaders in the field of digital marketing helping both long-term clients and Kickstarter marketing projects. Contact Command Partners today for your digital marketing questions.
About Command Partners
Command Partners (http://www.commandpartners.com) focuses on the top strategies for driving online visibility and lead generation, including social media marketing, search engine optimization, public relations, strategic advisory, social recruiting and Kickstarter marketing. Command Partners is located in Charlotte, NC and works with clients around the globe. Connect with Command Partners on Twitter @commandpartners, Facebook and Google+.