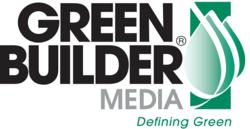 "We were interested in conducting a survey with a diverse group of building industry firms to benchmark our sector's strengths and weaknesses."

-Sara Gutterman, CEO, Green Builder Media
Eastsound, WA (PRWEB) September 28, 2012
Green Builder Media, North America's leading media company focused on sustainable living, released the results of a groundbreaking survey focused on the green building practices of nearly 200 building professional firms across the US. The survey verifies that companies in the building sector are adopting green building practices, although there are some clear opportunities for improvement.
"The depletion of natural resources, increasing frequency of extreme climate events, and rapidly transforming global socio-economic landscape has made sustainable business practices an imperative for companies in all sectors," said Green Builder Media CEO Sara Gutterman. "We were interested in conducting a survey with a diverse group of building industry firms to benchmark our sector's strengths and weaknesses. We're happy to see that companies are embracing certain green business practices, like energy efficiency and recycling, but we're eager to see improvement in other areas like transportation and green accounting, which blends profitability with social and environmental considerations."
According to the survey, the building industry is readily embracing energy conservation and efficiency. Over 90% of respondents claimed that lights and computers are turned off when not in use. 85% reported that their companies save energy by using daylighting strategies, 56% use lighting controls, and 46% use LED lighting. Only 15% of respondents reported use of solar lighting systems for parking and/or security lighting.
Over 75% of those surveyed asserted that their companies use programmable thermostats for zone heating and cooling, and nearly 65% said that their HVAC systems are sized properly and designed for flexibility and efficiency. Only 35% of respondents reported that their companies utilize personal controls for HVAC systems, and only 17% use radiant heating systems.
To address the issue of water conservation, 75% of respondents reported that their companies use low flow toilets and 63% use low flow or automatic faucets. However, only 38% use on-demand hot water systems and 35% conduct water audits to identify and fix leaks. Only 30% collect rainwater for landscaping, and 25% reclaim and reuse water.
The survey indicates that companies in the building sector are aware of indoor air quality issues. 70% of respondents indicated that their companies use low/no VOC paints and stains, 65% use non-toxic cleaning products, 60% have humidity and moisture control systems, and 53% use non-toxic adhesives. 37% use natural fibers for carpets and upholstery, and 47% are focused on eliminating formaldehyde.
There is a high level of recycling within offices that were surveyed. 95% reported that they recycle paper, 94% recycle cans and bottles, 75% recycle electronics, and 65% recycle other consumables. Other items recycled extensively are aluminum, cardboard, glass and plastic. Nearly 60% of companies surveyed use refurbished furniture and electronic components, and nearly 70% use reusable/recycled plates, utensils, and cups.
62% of companies surveyed reported that they use locally sourced products and materials, and over 50% use salvaged or refurbished products and materials.
With regard to packaging, over 60% of those surveyed claimed that their companies use recyclable or recycled packaging, and 51% actively minimize the use of packaging for their products. However, only 32% request minimized packaging from suppliers.
Transportation remains a distinct area for improvement. Only 11% of companies reported that they use bio-diesel, flex-fuel, or other alternative forms of fuel for equipment and vehicles. Only 40% analyze delivery routes for efficiency. Additionally, while 56% of those surveyed said that their companies encourage carpooling and use of public transportation, only 10% answered that their companies offer incentives for using alternative transportation (such as biking or walking) and only 13% provide employee passes for public transportation.
Alternative live/work scenarios are also becoming more prevalent in the industry. 71% of respondents indicated that flexible work hours are available and 56% claimed that office time is reduced due to telecommuting.
While over 50% of respondents indicated that their company understands the meaning of "green accounting," only 30% of those companies employ green accounting practices.
When asked about environmentally-focused community outreach, survey results showed that nearly 65% of responding companies are involved in community enhancement programs, 60% in environmental or health focused educational programs, 48% in habitat restoration, and 45% in development of conservation easements, open space or community gardens.
"We will continue to work tirelessly to educate our readers and business partners about the importance of sustainable business practices," said Gutterman. "Our goal at Green Builder Media is to engender sustainable thinking, empowering our community with the knowledge that a sustainable future is possible if we all participate. Exponential change, after all, is the result of the incremental improvements made by individuals and companies every day."
Green Builder Media will continue to measure and report on the building industry's adoption of sustainable business practices.
About Green Builder Media
Green Builder Media, LLC is the leading media company in North America focused on green building and sustainable living. With a comprehensive suite of print and digital media solutions, demonstration projects, case studies, online training, and live events, Green Builder Media assists building professionals in preparing themselves for the new green economy and helps homeowners understand how to live more sustainably. For more information, contact Sara Gutterman at sara (at) greenbuildermag (dot) com. For media inquiries, contact Cati O'Keefe at cati (at) greenbuildermag (dot) com. For more information about Green Builder Media, visit http://www.greenbuildermag.com.