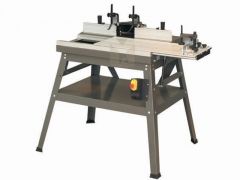 (PRWEB) September 30, 2012
Precisionbits.com—When it comes to woodworking, pros know the value of a great router table. They know the importance of accuracy and precision. And at the end of a woodworking venture, they want a great product. With Precision Bits new full line of router tables, woodworkers can find the tools to build not only a great product, but also a piece they can be proud of. Woodworkers with a passion for the trade know the value of a great and functional router table. At Precisionbits.com, you can find a router table that exceeds your highest expectations.
Precisionbits.com's new line of router tables gives woodworkers the ability to build a new woodworking shop or upgrade one you already have. Precisionbits.com's full line of router tables brings to you three router tables with multiple capabilities and features. The Router Table Work Station with Built-in Sliding Table is the ultimate heavy duty machine. Also called the Yonico 21052, this router table is a strong and heavy. It tilts easily and has a support weight that weighs 124 pounds. Equipped with a hydraulic lift, the Yonico 21052 tilts 45 degrees to manipulate router bits.
Each of Precisionbits.com's router tables are heavy duty and make life easier for the avid woodworker. The Yonico 21046 router table system with stand features a sturdy cast iron surface that allows wood to glide easily across the router table. It also features a secure clamping system and a large split fence, giving you the ability to easily handle large stock and ensure that it stays in place. The security and stability of this router table make it a must have for passionate woodworkers any hobbyist.
The Yonico 21033 is yet another shining example of Pecisionbits.com's unique line of router tables. This router table has a fence and stand that's equipped with a built-in aluminum miter track. The Yonico 21033 gives woodworkers a full range of abilities to make life easier. Dust ports and T-track cutouts make it a dream for woodworkers.
With a great selection of high quality router tables, Precisionbits.com brings woodworkers the ability to make the most of their workshop, while giving them the tools and features they desire. Precisionbits.com is your one stop shop for high quality router tables. If you want strong and efficient router tables, check out Precisionbits.com's full line of router tables. They come to you with quality, and quality translates into great woodworking.