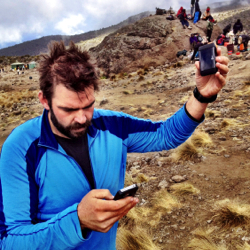 "...new media used in new ways is changing how we do science and how anyone, anywhere, anytime can now participate in real-world research."
Morristown, NJ (PRWEB) September 28, 2012
"When we produced the first live programs direct from the South Pole or the heart of the Amazon rainforest," said Geoff Haines-Stiles, CEO and Co-Founder of Passport to Knowledge (P2K), "we relied on NOAA satellites, NSF ground stations, NASA expertise and expensive satellite TV trucks. Now we're posting videos on YouTube in near real time using smartphones and WiFi." Erna Akuginow, P2K Co-Founder, added "Sharing the GLOBE Learning Adventure with audiences world-wide via iPhones shows just how fast new media used in new ways is changing how we do science and how anyone, anywhere, anytime can now participate in real-world research."
Thanks to America's National Science Foundation (NSF), P2K has sent a 2-person film crew on the 9-day expedition to climb Mt. Kilimanjaro alongside students and teachers from Alaska, California, Colorado, Texas and Tanzania, and vegetation and permafrost researchers from Japan, Russia and the United States. In addition to shooting HD video for podcasts and future broadcast, the team is capturing iPhone video and transmitting it back to the USA for editing and posting on social media whenever cellphone coverage is strong enough. So far four videos (including one shot, sent and edited today, thanks to a 4G connection at 13,900 feet) have been uploaded to YouTube and the GLOBE program's Facebook page, and P2K hopes for several more as the expedition summits—if all goes well—on Sunday September 30th.
Passport to Knowledge has been public television's longest-running series of interactive learning adventures, producing more than 60 hours of real-time TV in its LIVE FROM… series. More recently P2K produced MARSAPALOOZA, about NASA's Mars Explorations rovers, and POLAR-PALOOZA, supporting dynamic and highly-visual spoken word presentations by leading researchers and engineers at 25 museums and science centers during the 2007-2008 International Polar Year. This year, Haines-Stiles and Akuginow produced the special 3-part PBS "Earth: The Operators' Manual" series on climate science and renewable energy opportunities.
The Kilimanjaro 2012 expedition is sponsored by GLOBE Africa and the NSF-funded "Seasons & Biomes" project, and coordinated by Boulder-based Xpedition lead, Mike O'Toole. GLOBE, the "Global Learning and Observations to Benefit the Environment" program, is a worldwide hands-on, primary and secondary school-based science and education initiative. There are more than 54,000 GLOBE-trained teachers representing over 24,000 schools around the world. Over 1.5 million students have participated in GLOBE, contributing more than 22 million measurements to the GLOBE database for use in their inquiry-based science projects.
PolarTREC is hosting an hour-long interactive webinar with the Kili 2012 team for schools anywhere on Earth on Monday October 1st., at 13:00 Eastern, after the summit attempt. The focus will be on stories and science from this year's adventure, and how learning expeditions like this benefit students, teachers and researchers.
For access to hi-res versions of the videos and stills sent back from Africa, contact P2K as below.
Contact info:
Geoff Haines-Stiles, ghs(at)passporttoknowledge(dot)com / mobile: (973) 223-3816
Erna Akuginow, ghs(at)passporttoknowledge(dot)com / office: (973) 656-9403
http://www.youtube.com/watch?v=a7YcvLVl_tM
http://earththeoperatorsmanual.com
https://www.facebook.com/TheGLOBEProgram
http://xpeditiononline.com/2012journal/2012day5.html
http://pinterest.com/earthtom/pins/
http://www.polartrec.com/polar-connect/register