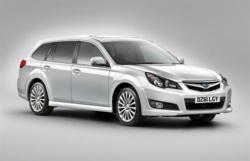 Auckland, New Zealand (PRWEB) September 30, 2012
New Zealand is a lush and beautiful country filled with natural wonders that often requires travel off the beaten path to be appreciated. Visitors looking for affordable transportation around the islands have used Omega Rental Cars to hire affordable, reliable transport in New Zealand. Now, independent travellers and resident New Zealanders in need of a stylish and reliable rental vehicle have been given another option to explore the islands. Omega Rental Cars has added the new 2012 Subaru Legacy to its fleet, upgrading the already robust options the company provides to its consumers.
Described by Consumer Reports as a "well-rounded family wagon", the 2012 Subaru Legacy is the latest version of Subaru's full-sized, all-wheel drive stalwart. As one of the more affordable full-sized four wheel drive sedans on the market, the Legacy represents a terrific return on investment. The newest model features several significant upgrades:
Improved fuel economy, making it among the best in class;
Larger overall size, for a roomier and more comfortable ride;
Electronic stability control to provide better handling in emergency situations;
Increased back seat leg-room, making the vehicle suitable for five to ride comfortably.
The 2012 Legacy retains the company standard all-wheel drive, making it one of a handful of family vehicles to have that feature standard. The increased fuel efficiency brings the Legacy to 19 mpg city/27 mpg highway (12L/100km city/8.7L/100km highway), which places the car among the leaders of all-wheel drive vehicles in its class. The increased legroom makes the Legacy one of the roomiest all-wheel drive sedans on the market, answering a long-standing complaint from consumers. The 2012 Legacy is added to Omega's Executive Class of Four-Wheel Drive vehicles. However, Omega Rental Cars currently offers multiple options for renters in need of a vehicle in any size category, from budget size to family vans to SUVs.
Omega Rental Cars has a solid reputation of customer service and reliability both in New Zealand and many overseas markets. A high level of repeat customers from Australia, UK and USA find our winning formula attractive and recognise the benefits of choosing to hire from a company which operates a modern fleet in New Zealand.
Omega focuses on meeting the needs of the independent traveller by offering boundless rentals in New Zealand. This policy gives renters the freedom to explore the beauty of New Zealand without restraint. Included in the cost of all Omega rentals is free 24-hour roadside assistance, AA road atlases, and Omega Travel Guides. Omega also offer a pickup service for international visitors requiring airport car rental.
Omega's highly trained team welcomes customers in a friendly, courteous and efficient manner. Our services extend from personalised tour planning to vehicle use and operation. Our professional and experienced car maintenance back-up teams ensure a comfortable and safe journey. Our customers appreciate that we offer a product of unparalleled value at an affordable price.
Media Contact:
+ 64 9 377 5573
rent-car(at)omegarentalcars(dot)com