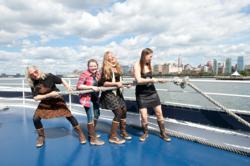 "I'm not only honored to receive the award for our film, but also very proud of Alaskan women who dedicate their lives to this growing market despite abundant risks and harsh environments in a historically male dominated industry." - Capt. Anna Young
Seward, Alaska (PRWEB) September 28, 2012
Capt. Anna Young's film "Alaska Women Mariners" won the coveted Moondance Film Festival's filmed television pilot Spirit Award on September 17th in New York City.
"This award is a wonderful testament to the world of fishing and maritime industry in Alaska and how integral women have been for its success," said Young. "I'm not only honored to receive the award for our film, but also very proud of Alaskan women who dedicate their lives to this growing market despite abundant risks and harsh environments in a historically male dominated industry," added Young.
Young first arrived in Alaska 50 years ago. She is a mother, grandmother and great grandmother to a third generation Spenard Alaskan, as well as a 100 Ton Captain and fishing boat owner.
Young was a salmon drift gillnetter in Prince William Sound in 1989, when the Exxon "Valdez" oil spill occurred, and was the first responder out of west Prince William Sound in Whittier, to assist on her boat F/V "The Sugar." Most recently she lent her expertise and services to remove debris from Alaskan coastal waters because of the Japanese tsunami disaster. This can be viewed online on YouTube [Kayak Island - HD 1080p Video Sharing.mov].
Beyond her film production, Young is a maritime artist with an exhibit on display currently at the Valdez Museum entitled "The History of Fishing in Prince William Sound." She is also author of the book ""the Lost Art of Alaska Fishing."
"Alaskan Women Mariners gives the world a bird's eye perspective of Alaska's fishing world. It highlights the dynamic abilities of fishing all-stars like Alaska's youngest 100 Ton Captain in the state, Capt. Lilly Lane of Homer, Chelsea Bollinger of Kodiak, Capt. Sarah Brooks of Ninilchik, Sydney-Jane Armstrong of Homer, Capt. Lindsey Johnson of Ketchikan, along with the music of songwriter and singer Sally Wills, also of Homer," noted Young. The 29-minute film transitions from Capt. Young's narrative to footage of the captains and vessels, and then to footage actually taken by the same cast, of themselves and their industry. The film's content includes breathtaking scenes of Alaska from ships and ports to wilderness and ocean panoramas.
The Moondance International Film Festival is an independent annual film festival and awards competition first held in 2000 in Boulder, Colorado. The 2012 festival was held in New York City, NY. The festival honors filmmakers, writers and composers who actively increase awareness, provide multiple viewpoints, address complex social issues, and strengthen ties between international audiences.
Captain Young is now in the process of promoting her film for interest by U.S. and international producers in television and big screen for larger audiences in a multiple-episode T.V. series and cinematic format.