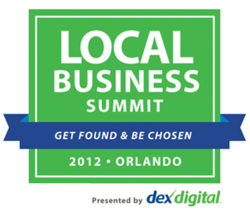 "It's rare to have such a well-organized event at no cost to the participants, and I applaud Dex Digital for their contribution to Orlando's small business community and our local economy." (Bill Attinger, CEO, ActSeed)
Orlando, FL (PRWEB) September 28, 2012
Dex Digital and Dex One have invited Mr. Bill Attinger, CEO of ActSeed, to join a panel of area small business experts for the Orlando Local Business Summit.
This summit will focus on how small businesses can affordably improve their visibility and brand recognition in a growing clutter of promotional and advertising from competitors of all sizes. The panel discussions will also address customer acquisition and retention strategies and open the floor to questions from all participants to ask any question related to positioning a small, local business for success.
Although seating is limited, the one-day summit is free for those who register. The program will be held on October 4, 2012 from 3:30pm to 8:30pm at the Fairwinds Tower Room in the Amway Center at 400 West Church Street in Orlando
"Through this program, local business owners can interact with area experts and share ideas and best-practices for growing a small business during troubled times," said Mr. Attinger. "It's rare to have such a well-organized event at no cost to the participants, and I applaud Dex Digital for their contribution to Orlando's small business community and our local economy."
About the Orlando Local Business Summit
The Orlando Local Business Summit is a one day conference held October 4, 2012 in Orlando, Florida. The free conference brings local small business owners together to discuss issues that confront Orlando area businesses and offer solutions from local experts. The summit is hosted by Dex One, a company that provides small business with local marketing and advertising services.
About ActSeed
ActSeed is a national online community for startups, early stage companies and small businesses. Since 2009, ActSeed has been helping thousands of entrepreneurs create jobs and build young companies by providing an easy-to-use "business blueprint" and connecting them to investors and business services that are critical for survival and growth. To learn more, please visit http://www.actseed.com.
If you would like more information about this topic or to arrange an interview with Bill Attinger, please send an email to media (at) actseed (dot) com.