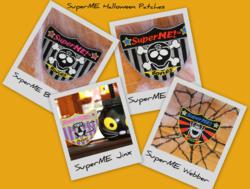 San Mateo, California (PRWEB) September 28, 2012
Even superheroes dress-up for Halloween. In response to overwhelming demand from little SuperME heroes everywhere, SuperME is introducing three new styles of Halloween-inspired hero patches.

Webber - This grey and black creepy crawling spider sports a little superhero eye mask and shield-shaped superhero symbol on his belly. Set against a red and black background, Webber appeals to bug-loving superheroes everywhere.
Jinx - Set against a purple and grey background, Jinx the black cat charms little girls with a black body, grey eye mask and grey shield-shaped belly.
Bones - For the daring buccaneer superheroes, Bones has a glow-in-the-dark skull and crossbones that really jumps out in the dark. Bones appeals to little pirate lovers. Bones comes in both pink and red versions.
The new patches will be available on SuperME's website, http://www.supermehero.com, on October 1.
SuperME is a new line of children's bags that combine the functionality of backpacks and messenger bags with the fun of superhero dress-up play, while helping children uncover their inner super-hero. The bags feature interchangeable superhero symbols in the form of shield-shaped Velcro patches.
SuperME has three product categories: cape backpacks, convertible messenger-style lunch bags and SuperME patches.
SuperME cape backpacks feature a built-in superhero cape along with a coordinating superhero eye mask. The superhero cape is stored in a hidden zipper pocket when not in use. Pulled out, it drapes heroically over the backpack. In either form it is an eye-catching backpack sure to inspire pride in those who are wearing it. The size and lightweight construction make these ideal preschool backpacks.
With the mask and built-in cape, SuperME cape backpacks make it easy for kids to dress-up for Halloween without blowing the budget on costumes. The backpack can also carry all that candy the kids collect. Best of all, the cape backpack is just as cool and functional in November as it was in the days leading up to Halloween.
SuperME messenger style lunch bags feature a removable strap, which transforms into a superhero utility belt. With the strap off, the bag converts into a hand-held satchel style bag. These stylish bags include a shoulder pad for comfort and feature two outside pockets sized to fit water bottles, and inside pockets to keep lunch items and daily essentials organized. The messenger bags are sized to fit preschoolers to tweens. Perfect for hands-free trick-or-treating.
SuperME patches are Velcro shield-shaped patches, which work with SuperME cape backpacks and messenger style lunch bags. The patches reflect a variety of interests and hobbies such as sports (football, soccer, swimming, cycling), fashion, and music, as well as holiday themes such as Halloween.
Both bag styles are available in five color combinations: Classic (red/blue/yellow), Bubblicious (pink/purple/yellow), Urbanista (black/silver/pink), Ninja (black/silver/yellow), and Naturalist (yellow/green/orange).
About SuperME
SuperME is a San Francisco based company created by two Super moms: Daphne Kaufer and Rena Stern. The inspiration for SuperME came from their children, who love dressing up and carrying their own bags to school, parks, day trips, and vacations. Their goal for SuperME was to create a line of functional products that are fun to play with and reflect the uniqueness of each child. They believe that every child is a superhero, just waiting to be uncovered.