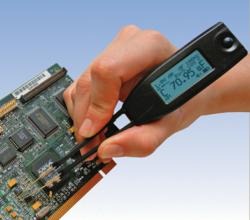 It is almost fully automatic and gives you value of a component, whether it is L, C or R immediately when you touch it with the tweezer tips.
New Delhi, India (PRWEB) September 30, 2012
Newly released web site for Smart Tweezers LCR-meter presented by Advance Tech Services Pvt. Ltd. introduces new instructional materials and useful user tips for the new model of a popular electronic LCR-meter.
Smart Tweezers LCR-meter manufactured in Canada by Siborg Systems Inc is getting more support from Advance Tech Services Pvt. Ltd. The unique world renowned fully-automatic digital LCR-meter allows to make highly accurate measurements by just touching any electrical component, whether it is inductance (L), capacitance (C) or resistance (R).
Due to a very low and well defined parasitics for its patented mechatronic design, Smart Tweezers allow to effectively eliminate any offset when measuring resistance or capacitance. This exceptional feature allows to measure very small capacitance and resistance of 1 picofarad and 1 milliohm range.
Recent copies of the original Smart Tweezers are measuring only resistance and capacitance. Smart Tweezers allows to measure inductance of a fraction of microhenry thus making it an indispensable tool for use in radio electronics.
"This web site will give Indian clients a better feeling of what this remarkable device would allow them to do, including a short video," says Ajay Gupta, Director of marketing at Advance Tech Services Pvt. Ltd. "Light weight and nearly pen size make Smart Tweezers extremely useful for any kind of field work. On the other hand, 0.2% basic measurement accuracy is normally achievable only with much more expensive bench-type LCR-meters. It is very important that Smart Tweezers virtually can be used without reading the Manual, it is almost fully automatic and gives you value of a component, whether it is L, C or R immediately when you touch it with the tweezer tips."
Advance Tech Services Pvt. Ltd. currently offers Introductory Sale Price for Smart Tweezers™ ST5. Here is a summary of the new model features:
-Automatic LCR, and Equivalent Series Resistance (ESR) measurements
-Basic accuracy of 0.2%
-Li-Ion Battery, USB Charger
-Diode and Continuity test
-Adjustable Test Signal
-Component Sorting with 1%, 5%, 10% and 20% Tolerance
-Semi-automatic Offset Subtraction
-Ideal for small components, as small as 0201 size (about 0.3 mm)
-Displays active and reactive impedance components
-Just 2 Oz weight and ergonomic design
-Long battery life
About Siborg Systems Inc:
Established in 1994, Siborg Systems Inc. is a source of engineering software and hardware tools for semiconductor and electronics industry. Located in the city of Waterloo, Ontario, Canada, it enjoys being part of the local world-renowned high-tech community.
About Advance Tech Services:
The company was established in 1996. Their main target is Electronics in various industries, including Telecom, Defence, Health Care, Automotive, Space, Consumer Electronics and Electronics maintenance in Processing Plants. With Headquarters Office in New Delhi and branch offices in Banglore, Pune, Mumabai and Hyderabad the Company can quickly and efficiently serve virtually any city in India.
ATS is an exclusive distributor for Goot, Engineer Inc, Sheshido Electric Company and Ceder, Japan; Plato Product Inc. and Paladin Tools USA; ASA Enterprise Corporation,Taiwan; Interflux, Singapore/Belgium, and Piergiacomi , Italy.
Among various product categories that ATS carries, to name a few, are: soldering/desoldering solutions, screw assembly solutions, ESD clean room and ESD solutions, dispensing solutions, mold gate cutting tools, chemicals.
For more information: Advance Tech Services Pvt. Ltd., Head Office (Delhi)
709-710, GD-ITL Towers, B-8, Netaji Subhash Place, Pitampura, New Delhi - 110034 India
Phone: +91-11-47002024, Fax: +91-11-47002029
Branch Office (Bangalore)
507, A-wing, 6, Mittal Tower, M. G. Road, Bangalore - 560001 India.
Phone: +91-080-25327460, 30521154, Fax: +91-080-25327454
Branch Office (Pune)
A-602, 5th Floor, Mega Centre, Pune - Solapur Road, Hadapsar, Pune - 411028 India.
Phone: +91-020-30421603
Web: http://www.smarttweezers.in