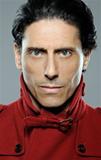 (PRWEB UK) 28 September 2012
CJ has chosen to run from Brighton to London on November 4th, which at around 60 miles is the equivalent to more than 2 marathons. CJ, who is currently starring in the Gilbert and Sullivan classic, The Pirates of Penzance at the Brookside Theatre in Romford is a regular supporter of The Make A Difference trust and can also be seen on the front of the charities – soon to be released – Calendar Girls style 2013 calendar alongside 12 of the biggest west end casts.
CJ said "I have worked in the HIV sector for half of my life and the dedication of MADTrust is utterly inspiring. To see the support the charity gets from the theatrical community makes me proud to be a part of both. I hope my humble efforts will be of some little use and raise awareness of MAD's amazing and essential work"
Clare Cubbon, the charities fundraising officer said "It is amazing that CJ, is giving of his time and passion to help us raise awareness and funds for our work. As a small charity, we are seeing a considerably growth in requests for support from people living with chronic health conditions and needing our help. Selfless acts like CJ's not only help us respond to more people but also highlight the incredible difference that can be made in a fun way."
Anyone wishing to sponsor CJ and support the charities work can go to http://www.justgiving.com/cj55 or visit http://www.madtrust.org.uk and follow the link to CJ's page.