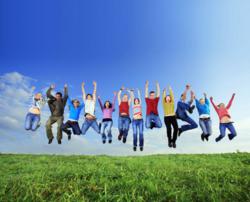 Gamification is rapidly establishing credibility and Motiv8 are the market leaders
London, UK (PRWEB UK) 28 September 2012
Contact centre employee motivation experts, Motiv8 Solutions, have been trading with their unique gamification platform for a year this week. During this time the concept of using games (both casual and games of chance) has gathered momentum and credibility. More and more large contact centres are recognising that there is untapped employee value in the use of controlled access to games at the employee workstation throughout the working day.
Since the launch of their V2Pro offering this time last year Motiv8 has seen the product translated into German & Polish and will have a French version available before the end of the year. In addition Motiv8 has secured exclusive distributor relationships in Poland, Czech Republic, Germany, France, Belgium, Netherlands, Luxemburg and Ireland. Discussions are underway with distributors in South Africa and initial trials are being explored in the United States.
Simon Peacock, Operations Director at Motiv8 commented, "2011-2012 has been a fantastic year for the business. Not only have our European expansion plans exceeded our expectations but we have also made better than expected progress with product development"
"We have seen the launch of Ultra Low Cost Reward and our Wheel of Fortune product that in partnership with Red Letter Days for Business enables businesses to use incredibly low sums of money (as low as £0.10) to reward and recognise employees for good work performed in their day job."
"The Red Letter Days for Business relationship has gone from strength to strength and we now believe that we have a potentially award winning solution with our combination of Ultra Low Cost Reward and their intuitive and market leading Lifestyle product."
Dan Gray, Finance & Legal Director commented, "Whilst initially partnerships with technology providers were slow to take shape, we now have three important relationships. CallScripter and Easy Call Now are hosted applications integrated with Motiv8 V2 Pro and Connection Point Technology has recently been appointed as our preferred systems integrator. We are already working with AlfaVox another European hosted system to incorporate our technology as an upgrade for AlfaVox clients."
During this period Motiv8 has collaborated well with http://www1.aston.ac.uk/aston-business-school/staff/.../professor-nick-lee/ [Professor Nick Lee at Aston University __title__ nick lee] and together with Harvard and other note worthy US academic institutions begun conducting ground breaking, large scale research into subject matters that the use of the Motiv8 system make data collection, highly reliable, easy and accurate. The largest such piece of collaborative work to date has been a 350,000 call piece of research conducted with Universal Agent, Poland's second largest contact centre.
With a number of exciting product developments in the pipeline and new territories opening, the next year looks just as exciting for Motiv8 V2Pro and gamification in the contact centre arena.
###
Notes to Editors:
Motiv8 Solutions
Motiv8 Solutions are experts in the field of employee motivation. Our unique, cloud-based Motiv8 V2 Pro Solution, aimed at call centre environments worldwide, improves the motivation, competency and inclusion of employees, resulting in greater engagement, capability and commitment. The outcome of this is more sales, lower costs and a leap in employee and customer satisfaction.
Motiv8 Solutions' low-cost application enables corporations to easily, instantly and consistently recognise and reward great performance from their contact centre employees. In addition Motiv8 provides a unique, unthreatening and on–the-job method of assessing employee competency and knowledge, and subsequently addressing any knowledge gaps, in a way that is hugely popular with employees and employers.
Motiv8 V2Pro is readily deployed, intuitive, low cost and completely unique. For some examples of how Motiv8 has been put to use for considerable economic benefit visit http://www.motiv8solutions.com/casestudies.html
Notes to Editors:
Red Letter Days
Established in 1989, Red Letter Days pioneered the concept of giving experiences as gifts.
In June 2011 the company launched a first of its kind Lifestyle voucher for the B2B market. Broader than any current high street voucher, this is the only voucher in the market to offer thousands of lifestyle and leisure treats online, including holidays, tickets to concerts and festivals, nights out at great restaurants, nights in with music, films and gadgets as well as top fashion and beauty brands and more.
For more information visit: http://www.redletterdaysb2b.co.uk
Contact (Red Letter Days B2B):
Courtney Glymph, Senior Communications Executive