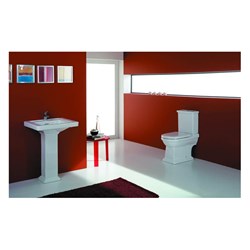 Bella Bathrooms website features a highly beneficial 'Best Sellers' category.
(PRWEB UK) 29 September 2012
Because the bathroom market is forever developing, more and more products are being rapidly produced. New technology is being introduced to new products and the demand for the latest functions is increasing. Bella Bathrooms have highly considered the improvements to products and have therefore increased their range in bathroom suites to provide consumers with nothing but the best. As one of the most prestigious rooms within the household is the bathroom, it is vital to make it look of high quality and style. Bella Bathrooms have made this task easier by displaying bathroom suites and products designed by the finest bathroom manufacturers in the UK including Moods and Tavistock.
A new introduction to the Bella Bathrooms website features a highly beneficial 'Best Sellers' category. This allows home-owners to look at what other consumers find appealing and provides inspiration towards gaining the perfect suite. The best sellers feature the finest of products at extremely low prices all reassured by a company guarantee. As the company stock a variety of products at different sizes, designs and colours, finding exactly what you need has never been easier. The ability to mix and match a wide range of items can help home-owners achieve the most precise outcome possible.
As bathrooms need to be designed to each individuals needs, it is necessary that you can find the appropriate guidance to make the job easier. Bella Bathrooms provide a wonderful customer service system that allows home-owners to talk with a member of staff that can provide any vital key information. The bathroom suites the company provide are always in stock and ready for any consumer to purchase instantly. This results in a smooth and speedy process that can be achieved in a few simple clicks.
Bella Bathrooms online website contains a useful range of sub categories that enables home-owners to easily transport around the site and find exactly what is needed. Within the bathroom suite section, any potential buyer can select individual toilets/sinks, a combination of the two, baths, beautiful cloakroom suites, designer bathroom suite collections and disabled toilets. This shows how the company excel in providing an extremely diverse range of products all of extremely high quality whilst consider the consumer first.
About Bella Bathrooms:
Bella Bathrooms is one of the finest UK online bathroom retailers based in the North-East of England and offer continuous great deals of bathroom refurbishments, shower, tower rail and radiator updates, bathroom furniture and various other key elements at prices that are guaranteed to be unsurpassable. The latest updates continuously made have further improved the overall quality and they have set a high standard for things to come in the future.
Bella Bathrooms