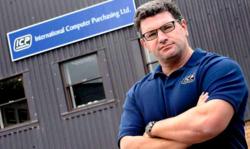 "If the last ten years have taught us anything, it's the importance of remaining flexible and responsive to the needs of our customers." - Matt Archer
Wilmslow, Cheshire (PRWEB UK) 28 September 2012
Cheshire networking suppliers ICP Networks are celebrating ten years in business this month.
Since the company's establishment in the Cheshire town of Wilmslow a decade ago, http://www.icpnetworks.co.uk has developed into one of the North West's foremost providers of new and refurbished networking and server-room equipment from all principal manufacturers, such as Cisco, Checkpoint, Sun, Nortel, BlueCoat and HP ProCurve.
Reflecting on the past decade, ICP Networks Managing Director Matthew Archer commented "It's fair to say that we've seen a lot of changes over the ten years, purely in terms of the advances that have been made in routing and switching technology itself, if nothing else."
"However, there have also been significant changes to the landscape in other areas too; certain manufacturers, resellers and distributors have all come and gone in this time and changes in the general economic outlook over the last few years have really had an impact on the industry too."
"In many ways, a year in this industry feels a lot longer than that. So we're delighted to have reached this milestone."
Capping an impressive anniversary year, ICP Networks turned in a record financial performance against the continuing backdrop of economic uncertainty.
In addition, the firm also received their first ISO certification, ISO9001:2008, earlier in the year, having been able to demonstrate the highest standards in processes, systems, health and safety and customer service.
"If the last ten years have taught us anything, it's the importance of remaining flexible and responsive to the needs of our customers. Some things change but basically good customer service, a quality product and competitive pricing will always remain among the key elements of making a purchasing decision" added Mr Archer.
"So, while obviously trading conditions remain challenging out there, we have invested accordingly in internal processes, systems and additional staff to facilitate our continued success over the next ten years."
Matt is keen to point out that ICP Networks won't be resting on their laurels as the firm prepare for making the next ten years just as successful.
"We're got some exciting plans for 2013 and beyond already, including working towards our next accreditation, ISO14001:2004. I'm confident that our customers will continue to experience the benefits of our commitment to this process over the coming years."