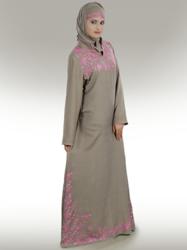 Any Size Any Length, We Customize for YOU
(PRWEB) September 29, 2012
My Batua (mybatua.com) is an online Islamic fashion retailer for designer & modest clothing, offering a wide range of traditional and modern Islamic outfits, contemporary, western, fashionable and exclusive apparel for man and women.
MyBatua has created a new splendid Islamic clothing collection, with the most luxurious fabrics such as fine crepe and featuring exquisite craftsmanship and design. There is plenty of choice for festive season parties. Dress styles include Burka, Abaya, Jilbab, Hijab, Tunics, and Tops with easy wearing dresses for stylish comfort.
MyBatua aims to be the one-stop shopping website that gives sufficient support to all stylish and elegant women. Quality, designs, uniqueness and styles are what make MyBatua designer dresses so special. Gorgeous Islamic dresses for dressing up in evening, wedding or party in winter season.
For customers who are keen on top fashion labels, MyBatua shop acts as one-stop choice with a wide range of designer clothing manufactured uniquely for Islamic women and men. Visit MyBatua.com to refresh your wardrobe and while checking out, use promo code "EZ321FES" and save 10% to 15% off your entire purchase.
With more than 150 new styles in women's dresses, MyBatua expand own product assortment by developing a luxurious line of clothing and accessories not only to satisfy the desire of current customers for products featuring the finest fabrications, but to introduce to new customers with similar needs.