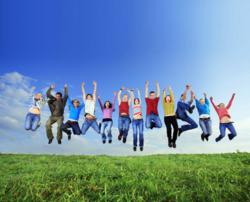 Even in these tough times, employers can afford to pay merit based variable pay, safe in the knowledge that every penny spent creates incremental value for the enterprise
London, UK (PRWEB UK) 28 September 2012
The annual bonus is a common feature in many large companies in the UK. For sure in recent times the quantum of this bonus may have been reduced or indeed in some cases the bonus may not have been paid at all. The questions posed by employee motivation experts Motiv8 Solutions, are "Just what is the point of paying an annual bonus. What is the objective? What is the employer hoping to achieve?"
These are good questions, particularly in the context of contact centres at a time when employers are desperate to increase efficiency, reduce costs and have little spare cash. Eric Mosley of The Harvard Business Review Blog raised similar issues.
"One of the more common answers we hear from large employers" says Simon Peacock, Operations Director at Motiv8 Solutions is "We have always paid an annual bonus, the employees expect it. In fact if we didn't pay it we would have trouble on our hands!"
Of course in this situation, there is obviously no linkage whatsoever between the payment of the annual bonus and performance of that individual and to a lesser extent, the performance of the enterprise as a whole. In this example the annual bonus may as well be called "additional salary, the amount to be determined at the end of the year depending on what we can afford"!
Some companies have attempted to rectify this by ensuring that employees are graded into performance groups and depending on the employees' performance over the past 12 months will depend on which band of bonus the employee enjoys. "In theory this is a good idea, but in practice, what we see is at best an arbitrary, fact light, methodology of banding the employees which is certain to and does cause resentment and again has little or no positive impact on motivation or employee performance past future or present" says Peacock.
"If an employer is simply saying 'thank you' to an employee or a group of employees for work over the past year that has lead to a successful outcome for the enterprise, then the bonus becomes like a 'profit share' and perfectly valid. If however, the employer is making an annual payment expecting this to influence future performance in say the contact centre, then the employer is wasting his money" says Dan Gray, Finance Director at Motiv8. "Human motivation doesn't work that way, especially in a contact centre environment"
Gray continues, "The employer would be much better off allocating a sum of money and calling it something like 'variable employee payment' and setting clear objectives for individual agents that when achieved can be categorically demonstrated to have generated incremental value to the employer. In other words, work out what your contact centre employees can do to make you more money and then share some of that money with them every time they do it!"
Isn't that called 'commission'? "I guess it's as good a word as any" says Gray "But, too often commission is associated with 'sales'. What smart contact centre employers should be doing is rewarding and recognising employees for performing well the tasks that ultimately 'drive' desired outcomes like improved efficiency. E.g. Raising leads, handling more calls effectively per day, getting higher CSAT scores from customers"
Whilst most contact centre employers recognise that there are many drivers of success, the challenge until now has been that it is potentially very difficult to put a merit-based facility in place that only pays employees when incremental value has been created. "The administration headache means that many employers don't even attempt it" said Gray. "Now using a lightly integrated version of Motiv8 V2pro application employers can set almost unlimited outcomes and have employees rewarded automatically".
"At last the Finance Director can be certain that unlike the annual bonus, every penny paid to an employee in Motiv8 world, has generated the enterprise incremental value. The good news for employees is that using this methodology, employers are more likely and more willing to pay bonus and you don't need to wait to the end of the year to get it!"
###
Notes to Editors:
Motiv8 Solutions
Motiv8 Solutions are experts in the field of employee motivation. Our unique, cloud-based Motiv8 V2 Pro Solution, aimed at call centre environments worldwide, improves the motivation, competency and inclusion of employees, resulting in greater engagement, capability and commitment. The outcome of this is more sales, lower costs and a leap in employee and customer satisfaction.
Motiv8 Solutions' low-cost application enables corporations to easily, instantly and consistently recognise and reward great performance from their contact centre employees. In addition Motiv8 provides a unique, unthreatening and on–the-job method of assessing employee competency and knowledge, and subsequently addressing any knowledge gaps, in a way that is hugely popular with employees and employers.
Motiv8 V2Pro is readily deployed, intuitive, low cost and completely unique. For some examples of how Motiv8 has been put to use for considerable economic benefit visit http://www.motiv8solutions.com/casestudies.html