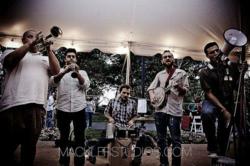 "In the past couple of years we have seen more Williamsburg, Greenpoint and Astoria 21-35 year olds coming to our Fall Festival, so this year we decided to build a stage, add live music and partner with hot microbreweries to create an Octoberfest."
New York, New York (PRWEB) September 28, 2012
Randall's Island Golf & Sports has partnered with numerous craft breweries to add a little 21 and over excitement to their traditional Fall Festival on October 6th and 7th. The addition of bands and beer to the Fall Festival was the brain child of the owner Kelley Brooke, "In the past couple of years we have seen more Williamsburg, Greenpoint and Astoria 21-35 year olds coming to our Fall Festival, so this year we decided to build a stage, add live music and partner with hot microbreweries to create an Octoberfest."
Several craft breweries jumped on board with the help of Great Brewers.com, an online community of beer enthusiasts that provides a wealth of information in a Web 2.0 environment. GreatBrewer's Jordan McIntyre immediately secured popular microbreweries including Brooklyn Brewery, Blue Point, Sixpoint, Narragansett, Magic Hat & Oskar Blues. "We are very excited to be a part of the Fall Festival on Randall's Island! We feel the craft beer presence will only add to the fun atmosphere of this great event." said McIntyre.
Don't worry, families are still welcome. "We are still the same family friendly festival that we have always been. Festival goers will still enjoy the pumpkin patch, the hayride, pony rides, facepainting, candied apples, miniature golf, batting cages, ping pong, bocci ball and more. Now, however, parents and the 21 and older crowd can relax, listen to live music and sip a craft brew." And let's not forget the food. What Fall Festival would be complete without hot cider, cupcakes, candied apples, grilled hamburgers, hot dogs, cotton candy and other fall food. At dusk, a large screen will be set up and the day will end with a classic golf movie such as Caddyshack or Happy Gilmore.
The price of entry is $15 per person and includes all of the above mentioned activities. As an added bonus, you can visit Randall's Island Golf & Sports Center's facebook page http://www.facebook.com/#!/RandallsIslandGolf for great deals such as a $2 per microbrew offer and family packages.
Randall's Island Golf & Sports Center is located on Randall's Island In NYC. Rnadall's Island is known for large music festivals such as The Governor's Ball and Electric Zoo. In addition to having an 80 stall golf range, 36 holes of miniature golf, batting cages, a sports camp and and beer garden, the 25 acre golf center is also a very popular event space for corporate events, birthday parties and private parties.