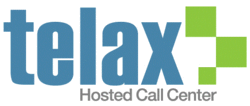 Toronto, ON (PRWEB) September 28, 2012
Telax Hosted Call Center, North America's leader in cloud-based contact center software for government, announced today a competitive RFP win of a bid issued by the Ministry of Social Services, Government of Saskatchewan.
Telax's multi-site IVR and Intelligent Call Routing solution will take the technical responsibilities off the ministry's plate allowing more focus on their core business: working with citizens to create positive outcomes and improved lives. There is a constant growing pressure to improve service delivery across all available channels of communication, not just the telephone. The ability to blend internet (chat), email, and fax goes directly to the heart of Telax's offering.
"Telax Hosted Contact Center will allow the ministry to have affordable multi-site flexibility quickly and easily" said Mario Perez, President and Founder of Telax, "Our solution is very customizable and will meet and exceed the needs of the ministry as they grow to provide added value to their citizens."
Telax will allow the ministry to have many diverse offices become one seamless entity through virtual queues with skills based routing that are not dependent on physical location. This will drive efficiency and productivity. The ability to see real time dashboard data and a wealth of reports wherever managers require it will deliver tremendous business intelligence.
Telax has a strong history of successful deployment and ongoing management of public sector contact centers, many with similar infrastructures to Social Services. Current public sector contracts include the City of Regina, Calgary Board of Education, Office of the Commissioner of Lobbying, Hydro Quebec, Health Canada, Information Canada, Workplace Safety & Insurance Board of Ontario (WSIB) and more.
-30-
Telax Hosted Call Center, established in 1999, empowers contact centers to fulfill their key purpose: creating happy customers. With more functionality than traditional hardware, at a fraction of the cost, Telax clients get a customizable, easy-to-use hosted call center solution that includes responsive day-to-day support and no long-term contracts. Feature capabilities include: multi-channel ACD, self-service IVR, workforce management, recordings, reports, CRM integration, social media and more. The simplicity delivered by Telax Hosted Call Center enables clients like: Best Buy, Northrop Grumman, Johnson & Johnson, CI Investments, Health Canada and the GSA, to reduce costs and improve efficiency, so they can do more with their most critical resource: people.