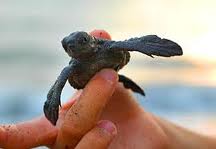 Today it can take more than a beach to get American tourists to Mexico.
Puerto Vallarta, Mexico (PRWEB) September 30, 2012
Puerto Vallarta has long beckoned tourists with its sun and surf, boasting some of the most beautiful beaches in the world. But today it can take more than a beach to get American tourists to Mexico, which is one reason Halle Eavelyn of Spirit Quest Tours leads fellow travelers on journeys that include more unique pursuits.
"A spiritual tour is designed to be a personal journey that refreshes the spirit. For some that might mean lying on a beach, but people who travel with us are looking for more than that. They want to experience nature, see ancient places, interact with the local culture, and if possible witness things they can't see anywhere else," says Eavelyn.
Eavelyn describes a recent trip where she and fellow tourists joined scientists and locals to witness a giant sea turtle laying eggs on the beach.
Sea turtles are among the most endangered species in the ocean, environmentally important to man because they feast on jelly fish. They are one of the only sea animals to make a diet of the toxic urchin.
"Seeing one of these magnificent, prehistoric creatures is one thing, but to crouch on the edge of the beach in the moonlight in a silent group and watch her as she uses her powerful flippers to dig a circular hole 20 inches deep into the sand is amazing," Eavelyn says.
As guests of the luxury "eco-chic" resort Casa Magna, tourists can watch as a sea turtle lays as many as 250 pink, gooey, ping pong ball- size eggs into the pit she's dug. She'll then cover them up, smooth the sand until its barely discernible from the rest of the beach, and return to the sea.
In many parts of the world, the eggs and turtles are harvested for food, but not in Puerto Vallarta, Eavelyn says.
Casa Magna biologists and volunteers will rescue 60,000 eggs between June and December, providing a safe haven in a court-yard hatchery where the eggs are reburied. The surviving eggs will hatch in 45 days. Casa Magna guests participate in the release of the baby turtles, venturing to the beach at sunset to send them off into the sea with prayers and good wishes for survival.
Sadly, environmentalists say a very small percent, between one and two percent of all sea turtle eggs, will yield turtles who survive to maturity to visit the beach and lay their own eggs, thus their status as an endangered species. For the tiny turtles released into the sea, it can take 20 years before they lay their own eggs, and that's if they survive.
"Of the 170,000 sea turtles born each year in Puerto Vallarta, experts say less than 2,000 will live to adulthood," Eavelyn says. That's another reason she feels compelled to return with other tourists frequently to Casa Magna.
In addition to Mexican adventures, Spirit Quest Tours leads trips to exotic locations throughout the world. In December the company will venture to Egypt to witness the historic planetary alignments at the pyramids in the Valley of the Kings. Eavelyn documents her travel experiences on a blog at http://www.spiritquesttours.com/blog/
For information on travels with Spirit Quest Tours, including their upcoming December trip to Egypt, visit http://www.spiritquesttours.com.
end-
About Spirit Quest Tours
Spirit Quest Tours offers life-changing spiritual travel to some of the most fascinating, and often misunderstood, places on Earth. Expert tour guides create these trips to introduce travelers to new lands and cultures and to broaden the understanding of the world around us. Call 877 406 5206 for more information, or visit SpiritQuestTours.com.
Halle Eavelyn is the author of Red Goddess Rising, which follows her transformation from reluctant tourist to her new life guiding other travelers though the mysteries of ancient spirituality. Published by Spirit Quest World, the book is available from the publisher, at Barnes & Noble and on Amazon.com.
Media Contact: Connie Holubar, 903 498 8586, or connie(at)outreachpr.com