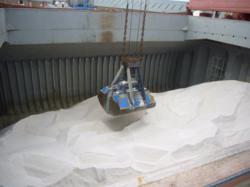 "Salt and Grit Solutions hopes to make a real impact on the salt market this year."
(PRWEB UK) 29 September 2012
Salt and Grit Solutions, based in King George V Dock in Glasgow, have ordered this year's first boat of salt from Egypt in order to be better prepared for the upcoming winter. Although the company already has stocks of rock salt and white solar salt to hand, they think it's important to be as prepared as possible before any possible cold weather sets in.
Director James Smith said: "It is difficult to accurately predict what the weather will do from year to year, but we pride ourselves on reliability and customer satisfaction and it is important that we have sufficient stock to service our clients, both large businesses and individuals alike. As such are always available at the end of a telephone or new for this year, salt can be ordered online through our website. When the snow starts to fall and ice starts to appear, we offer extended opening hours so that clients are able to get access to salt at all times of the day and night, should the need arise."
White de-icing salt is a manmade product, produced from seawater in warm countries around the world. Through a process that can take several years, seawater is evaporated to create a pure white salt, which is then processed and screened to keep it at a suitable size for de-icing purposes. Egyptian salt producers have a good reputation within the U.K. market, with a marked increase in imports after several cold winters.
Indeed, the de-icing salt market within the U.K. has increased as a whole, with many companies now specialising in de-icing salt supply. Companies grapple for advantages over others. Salt and Grit Solutions's location at KGV port gives the company the added advantage of excellent road networks to get salt to its client both north and south of the border at highly competitive prices. With two other depots in England, Birmingham and Ellesmere Port, the company is able to service the whole of the UK. With these factors, and the Egyptian ship to ensure good stocks throughout the winter period, Salt and Grit Solutions hopes to make a real impact on the salt market this year. Salt and Grit Solutions can be contacted on 0141 445 3499 for any further information.