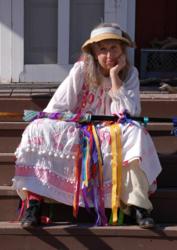 Farmington, N.M. (PRWEB) September 28, 2012
The festival, now in its 12th year, draws thousands of people, to downtown Farmington, N.M.; exactly 7181 last year according to Ryan. This year's event includes Appalachian storytellers, Bill Harley and Michael Reno Harrell, returning favorites, and newcomers Barbara McBride-Smith and Angela Lloyd. McBride-Smith is an eclectic performer who is "a little bit country and a little bit rock and roll." Angela Lloyd is a storyteller and a one- woman band coming equipped with an Autoharp, a ukulele, a spoon and a bell.
Other popular participants on the program are young, local storytellers that have competed to participate. They practice their yarns the entire summer in anticipation of the festival. These young people are the product of the Farmington Public Library Youth Storytelling Program, one of the most successful in the country. The young winners will be on stage starting at 12:30 p.m. on Friday.
Another special program for youngsters will be "Bedtime Stories" at the Totah Theater from 5:30 to 6:15 p.m. for children under 12 and then "Ghost Stories" from 6:30 – 8:30 p.m. for oldsters. The complete two-day festival schedule is available online at the Farmington Library website.
Along with the Farmington Convention and Visitors Bureau, the City of Farmington, and KSJE 90.9 are sponsoring the Library's 2012 Four Corners Storytelling Festival.
The Farmington Convention & Visitors Bureau is a tourism marketing organization offering travelers information about attractions in Farmington and throughout the Four Corners. A free, colorful destination guide is available online or by mail by calling 1- 800-448-1240.