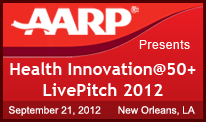 Eighty companies submitted to demo and 10 were chosen as finalists. Two companies won: Abilto (New York, NY) www.abilto.com and Carelinx (San Francisco, CA) www.carelinx.com.
Washington, DC (PRWEB) September 28, 2012
At the AARP Health [email protected]+ LivePitch 2012 early stage health technology companies demonstrated their products and services before expert judges in front of a live audience of investors and consumers. Eighty companies submitted to demo at AARP Health [email protected]+ and 10 were chosen as finalists.
The day long event was held Friday, September 21st in New Orleans, LA during the AARP 2012 [email protected]+ AARP National Event & Expo. Lisa Suennen, Managing Member at Psilos Group emcee'ed the event.
This year's expert Judges included: Clayton Lewis, Partner at Maveron; Brandon Hull, Managing Partner at Cardinal Partners; Jeff Shoemate, Vice President of Innovation and Business Development, UnitedHealth Group Alliances and Andy Donner, Partner at Physic Ventures.
Finalists received a chance to pitch their product or service to a panel of industry experts and later in the day they pitched to an audience of AARP consumers. At the end of the day two grand prize winners – a Judges' Winner and AARP Consumers' Winner – were announced.
"The 80 applicants illustrated the breadth and concentration of innovative activity around several key needs areas," said Jody Holtzman, AARP Senior Vice President of Thought Leadership. "One of the things that was very exciting about the response to our call for pitch applicants is that we received many responses from companies doing really new things. These types of innovative startups are illustrating the possibilities – using existing technologies in new ways, and finding technology solutions for long-time but growing health challenges."
The winners of AARP Health [email protected]+ LivePitch 2012 were:
Judges' Award Winner:
Abilto
New York, NY
http://www.abilto.com
AbilTo administers remote behavioral health programs via phone or web-based videoconference that help individuals to better manage depression – enabling better health outcomes – and payors to eliminate avoidable, near-term medical expenses.
Consumers' Award Winner:
Carelinx
San Francisco, CA
http://www.carelinx.com
CareLinx is the preeminent online Professional Caregiver Network that provides solutions to help consumers & institutions easily find, screen, manage and pay caregivers who match their specific needs and budget. CareLinx is well positioned to capitalize on the growing demand for caregivers with the aging of our population.
About AARP
AARP is a nonprofit, nonpartisan organization with millions of members that helps people 50+ have independence, choice and control in ways that are beneficial to them and society as a whole. Learn more at http://www.aarp.org.
About LivePitch Media
AARP Health [email protected]+ LivePitch is a property of LivePitch Media, a producer of entrepreneur-focused technology and media conferences and events. LivePitch Media clients and customers include SXSW (Startup Village and Accelerator), Turner Entertainment, AARP and dozens of Fortune 500 and startup companies. For more information please visit http://LivePitchMedia.com