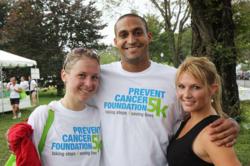 "We are thrilled to be hosting our event at Nationals Park this year. Moving the walk/run to a bigger and more centrally located venue has allowed us to incorporate more activities for everyone as the event continues to grow."
Alexandria, VA (PRWEB) September 29, 2012
The Prevent Cancer Foundation is hosting the fourth annual Prevent Cancer untimed 5K walk/run FUNdraising event on September 30 at Nationals Park in Washington, D.C. This year's event has over 500 participants and 36 teams. Besides the 5K walk/run, Prevent Cancer will introduce a "field day" atmosphere combining a variety of fun and healthy activities for young adults, children, families and even pets.
Participants will be able to hit balls in the Nationals batting cages, take pictures in the Nats dugout, meet Washington Kastles mascot Topspin and racing president Teddy, play giant Cornhole and Jenga games, eat lunch and much more. There will also be on-site flu shots from Walgreens, free oral cancer screenings and the Prevent Cancer Super Colon, the eight-foot-tall, 20 foot long inflatable educational exhibit—all promoting the Foundation's mission of saving lives through cancer prevention and early detection.
Entrepreneur and philanthropist Katherine Kennedy is this year's walk/run chair. The event raises funds for the Foundation's research, community outreach, advocacy and education programs. The Foundation's exclusive fitness partner LifeSpan Fitness has generously donated their signature treadmill desk as the grand prize for the top individual fundraiser. The desk allows users to work while also getting in some exercise.
"We are thrilled to be hosting our event at Nationals Park this year," said Jan Bresch, the Prevent Cancer Foundation's Executive Vice President and Chief Operating Officer. "Moving the walk/run to a bigger and more centrally located venue has allowed us to incorporate more activities for everyone as the event continues to grow."
Many thanks to generous sponsors Bayer HealthCare (Grand Slam), Johnson & Johnson (Home Run), Pricewaterhouse Coopers (Triple), Venable (Triple), Lilly (Double), Millenium Pharmaceuticals(Double), Genentech (RBI), 1-800 Contacts (RBI), MarcParc Valet (In-Kind), Subway (In-Kind) and exclusive fitness partner LifeSpan Fitness.
To register or to find more information, visit the 5k website at http://www.preventcancer5k.org.
###
About the Prevent Cancer Foundation:
The mission of the Prevent Cancer Foundation is to save lives through cancer prevention and early detection. Founded in 1985, the Foundation has provided more than $130 million in support of cancer prevention and early detection research, education, advocacy and community outreach nationwide. For more information, please visit http://www.preventcancer.org.