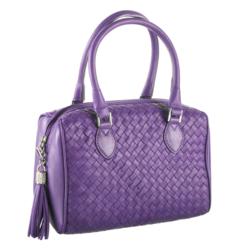 The leather has a wonderful lustre..something I have found that Bottega Veneta's products sadly lack
(PRWEB UK) 28 September 2012
In these days of globalisation, it is refreshing to find companies that still make leather goods according to the traditional methods of craftsmanship.
One such company is Bottega Fiorentina, one of Luxury Artisan's partner brands. Based in Florence, where craftsmen have been making leather goods for centuries in various "Bottega", literally meaning workshop, Bottega Fiorentina makes leather bags and accessories of the highest quality.
Luxury Artisan has just taken delivery of some beautiful woven leather handbags and purses from Bottega Fiorentina.
All of these products are handmade by skilled craftsmen, using traditional Tuscan methods of weaving the softest leather. It really is an art, that has been perfected over generations by these Tuscan craftsmen.
Such is the quality of Bottega Fiorentina's products that one of Luxury Artisan's customers, who bought a woven leather clutch bag, thought the quality was superior to that of Bottega Veneta, whose products sell for many times the price.
About Luxury Artisan:
Luxury Artisan is an interent retailer of luxurious Italian leather products
All products are handmade in Italy or England using the finest quality leathers and materials
Since launch in 2011, Luxury Artisan has supplied quality leather goods to customers globally