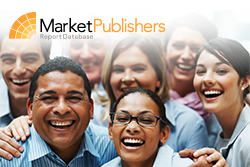 London, UK (PRWEB) September 28, 2012
Being the key zinc producer, Asia Pacific is expected to ramp up its current capacity in the next few years due to new projects in China, India and Australia. Around 4 million tonnes of the metal were mind in 2011 in China, a rise by 200,000 tonnes year on year. However, domestic manufacturers can not meet the demand of China-based consumers. Country's zinc consumption was estimated at over 5 million tonnes in 2010 and is likely to reach 6.48 million tonnes in 2019.
Such supply-demand imbalance in China combined with the purchasing activity rise in Europe and North America has already enabled to enhance Shanghai spot premiums by approximately USD 40 per tonne CIF.
New cutting-edge report "Research on China's Zinc Industry, 2012-2017" worked out by Huidian Research has been recently published by Market Publishers Ltd.
Report Details:
Title: Research on China's Zinc Industry, 2012-2017
Published: September, 2012
Pages: 94
Price: US$ 2,000.00
http://marketpublishers.com/report/industry/metallurgy/research-on-chinavs-zinc-industry-2012-2017.html
The report offers a deep insight into the Chinese zinc industry. It provides a comprehensive overview of the zinc industry, all-including analysis of China's zinc industry development environment from 2010 through 2012 and its development situation in 2008-2012. The research covers the global market for zinc as well as supply-demand equilibrium in China in January-June, 2012.
Price trends of domestic metallic zinc products, zinc industrial chain, most prominent upstream and downstream sectors, competitiveness advantages of zinc products, competitive landscape description, profiles on the key companies, investments, opinions of experts and industry forecast to 2017 are also available.
Report Contents:
1. OVERVIEW OF ZINC INDUSTRY
1.1 Metallic Characters and Applications of Zinc
1.2 Resource Reserves and Distribution of Zinc
1.2.1 Distribution of Global Zinc Resource
1.2.2 Distribution of China's Zinc Resource
1.3 Industrial Chain
2. DEVELOPMENT ENVIRONMENT OF CHINA'S ZINC INDUSTRY FROM 2010 TO 2012
2.1 China's Economic and Social Development Environment from 2010 to 2012
2.1.1 Macro-economy
2.1.2 Industrial Situation
2.1.3 Investment in the Fixed Assets
2.1.4 Income of Urban and Rural Residents
2.1.5 Total Retail Sales of Consumer Goods
2.2 Policy Environment of China's Zinc Industry from 2010 to 2012
2.2.1 The Influence of Industrial Policies
2.2.2 Relevant Industrial Standards
3. OVERALL DEVELOPMENT SITUATION OF CHINA'S ZINC INDUSTRY FROM 2008 TO 2012
3.1 Industrial Scale
3.1.1 Scale of Industrial Units
3.1.2 Scale of Industrial Personnel
3.1.3 Scale of Industrial Assets
3.1.4 Scale of Industrial Market
3.1.5 Scale of Regional Market in 2011
3.2 Financial Capacity of China's Zinc Industry
3.2.1 Profitability
3.2.2 Solvency
3.2.3 Operating Ability
3.3.4 Development Ability
4. DEVELOPMENT OF CHINA'S ZINC INDUSTRY
4.1 Development Status Quo
4.1.1 Status Quo
4.1.2 Features
4.2 Existing Problems
4.2.1 Industrial Structure is Unreasonable
4.2.2 Smelting Craft is Backward and the Environmental Pollution is Serious
4.2.3 The External Dependence Degree of Resources Improved Continuously
5. OVERVIEW OF GLOBAL ZINC MARKET IN H1 2012
5.1 Zinc Concentrate Market
5.2 Refined Zinc Market
6. SUPPLY AND DEMAND OF CHINA'S ZINC MARKET
6.1 Supply and Demand in H1 2012
6.1.1 Zinc Concentrate Market
6.1.2 Refined Zinc Market
6.2 Supply and Demand Analysis and Forecast
6.3 Import and Export Situation
7. PRICE TREND OF DOMESTIC METALLIC ZINC PRODUCTS AND THE AFFECTED FACTORS
7.1 Price Trend
7.1.1 Price in 2012
7.1.2 Inventory Refreshed the Record Again
7.2 Factors Affecting the Price
7.2.1 Macroeconomic Factors
7.2.2 Supply and Demand Factors
7.3 Price Trend Forecast from 2012 to 2017
8. ZINC INDUSTRIAL CHAIN AND MAIN UPSTREAM AND DOWNSTREAM INDUSTRIES
8.1 Industrial Chain
8.2 Upstream and Downstream Industries
8.2.1 Upstream Zinc Ore Mining
8.2.2 Midstream Zinc Ore Smelting
9. COMPETITIVENESS ADVANTAGES OF ZINC PRODUCTS
9.1 Overall Competitiveness
9.1.1 Resource Advantages
9.1.2 Costs Increased and the Industrial Competitiveness Decreased
9.2 Suggestions for the Sustainable Utilization of Zinc Resource
9.2.1 Strengthen Zinc Ore Prospecting Strength and Encourage Enterprises to "Go Out"
9.2.2 Guided by National Relevant Policies and Documents to Weed out Backward Production Capacity and Prevent the Blindness Expansion
9.2.3 Developed and Completed Domestic Zinc Futures Market and Strive for International Market-set Prices Discourse Power
9.2.4 Accelerate the Development of Regeneration Zinc Industry and Improve the Cyclic Utilization Level
10. MARKET COMPETITIVE LANDSCAPE OF ZINC INDUSTRY
10.1 Industrial Competitive Landscape
…
More new market research reports by the publisher can be found at Huidian Research page.