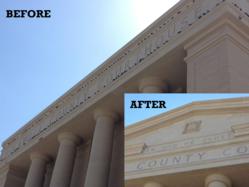 Within a day of installation of the electric track, the flock had dispersed and moved on to another roosting place
(PRWEB) September 30, 2012
Pigeons have long been making the Rockwall County Courthouse their roosting spot, until today. Bird Jolt Flat Track™, an electric track bird control system, was installed by A All Animal Control on the courthouse ledges and roof edges. The track system consists of a ¼' high electric track that is attached to a charger, giving pest birds a small shock when they land on the surface of the track. The jolt does not harm the birds - it conditions them to leave the area for a more comfortable place to roost and nest.
The Rockwall County Court House building officially opened on November 11, 2011 and pigeons have claimed it as their home since then. As many as 500 pigeons have been seen at any given time roosting along the roof and ledges of the court house, leaving behind a mess of droppings and other debris. The county was getting numerous complaints from the public about having to walk through the droppings to get into the building. Pigeon droppings are very acidic and can quickly deteriorate building materials, which is a problem for the $37.2 million dollar building. Bird droppings can also carry any of 60 transmittable diseases, which pose a health risk for anyone who comes in contact with the feces.
The building was not yet a year old when the daily cleanup expense for the bird droppings became excessive. The county needed a bird control solution. A All Animal Control of Collin County came to the rescue. Michael Beran, a bird behavioral expert, Master Falconer and owner of A All Animal Control recommended that the county install Bird Jolt Flat Track from Bird-B-Gone, Inc. to get rid of the birds. The Flat Track won the bid for this job because of its low visibility, durability and ease of installation. "Within a day of installation of the electric track, the flock had dispersed and moved on to another roosting place", said Beran. A All Animal Control prefers the Flat Track System because it is easy to install, is extremely effective and has the longest guarantee on the market.
Future maintenance for the Bird Jolt Flat Track™ will be minimal. The courthouse maintenance crew will have to ensure that there is no debris on the track and that all connections to the charging units remain secure. The track is manufactured with U.V. inhibitors to prevent a breakdown in materials. The installed track will keep the pigeons away for years to come. Bird Jolt Flat Track™ also has patented anti-arcing and glue trough designs, so it will work even during heavy rain where water will not short out the track.
For more information, visit our website at http://www.birdbgone.com or contact Jen Ketchersid at (949) 472-3122 or Jennifer(at)birdbgone(dot)com.