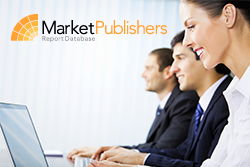 London, UK (PRWEB) September 28, 2012
The ever-rising adoption of various types of mobile devices, including smartphones, iPhones, iPads, tablets PCs, etc. is driving the cloud applications marketplace from pole to pole. Application demand, fuelled by mobile device penetration and usage, correlates with cloud adoption rates to a great extent.
Going forward, this trend is expected to pick up the pace owing to relative cheapness of cloud application operations. The market is likely to witness impressive growth in the next few years. To build an enduring competitive advantage in the cloud application marketplace, companies tend to cooperate in the development and/or delivery of cloud-based applications.
New market research report "Cloud Application Marketplace 2012 - 2017" elaborated by Mind Commerce Publishing has been recently published by Market Publishers Ltd.
Report Details:
Title: Cloud Application Marketplace 2012 – 2017
Published: September, 2012
Pages: 51
Price: US$ 1,995.00
http://marketpublishers.com/report/technologies_electronics/telecommunications/cloud-application-marketplace-2012-2017.html
The report provides an in-depth understanding of the key trends shaping the cloud application marketplace. The research evaluates the key benefits, challenges, trends and development process impacting the market for cloud-based applications. Furthermore, comprehensive market and vendor analysis as wells as forecasting through 2017 can also be found in the study.
Report Contents:
1 Executive Summary
2 Introduction
2.1 Trends
2.2 Features
3 Cloud Computing Concept& Dynamics
3.1 SaaS Application Services
3.1.1 Search
3.1.2 Mapping
3.1.3 Other Application Services
3.2 Cloud Categories
3.2.1 Software as a Service (SaaS)
3.2.2 Attached Services
3.2.3 Cloud Platforms
3.3 Parts of Cloud Application
3.3.1 Modern Tools
4 Cloud Application Architectures
4.1 Grid Computing
4.2 Transactional Computing
4.3 The Value Of Cloud Computing
4.3.1 How Far Can One Take This?
4.4 The Potential Impact
4.5 Options for an IT Infrastructure
4.6 The Economics
4.6.1 Capital Costs
4.7 Cost Comparison
4.8 Assumptions
4.9 FAQ: Cloud-Based Computing Applications And Services
4.10 Key Components to What Cloud Computing Can Do for your Business
4.11 Cloud Computing Benefits
4.11.1 Technical Advantages
4.11.2 Advantages for the User
4.11.3 Infrastructural Advantages
4.11.4 Advantages for Companies
4.12 Issues in Cloud Computing
4.12.1 Privacy
4.12.2 Bandwidth
4.13 Software as a Service (SaaS)
4.14 Optimizing Cloud-Based Applications
4.15 Simplifying the Building of Mobile Apps in the Cloud
4.15.1 Cutting-Edge Mobile Application Trends for 2012
4.16 Forecasting Public Cloud Adoption in the Enterprise
5 Cloud Business Forecast and Revenue 2012-2017
5.1 Cloud Business Process Services/Business Process as a Service (BpaaS)
5.1.1 Yoy BPAaS Market Value Projection 2011 - 2017
5.1.2 BPAaS Sector Wise CAGR Estimation in Revenue Generation During 2012 - 2017 Period
5.1.3 Cloud Advertising Revenue Projection 2012-2017
5.1.4 Cloud Payment Market Value Projection 2012-2017
5.1.5 E-Commerce Enabled BPAaS Based Platform Growth 2012-2017
5.2 Application Services/Software as a Service (SaaS) 2012-2017
5.2.1 SaaS Based Application Market Value 2012-2017
5.2.2 Sector Wise SaaS Growth CAGR During 2012-2017
5.2.3 SaaS Based CRM Market Value Projection 2012 - 2017
5.2.4 Sector Wise Projection: Web Conferencing, Teaming Platforms & Social Software Suits 2012 - 2017
5.2.5 SaaS Based ERP Market Value 2012-2017
5.2.6 SaaS Based SCM Market Value 2012-2017
5.3 Application Infrastructure Services/Platform as a Service (PaaS) 2012-2017
5.3.1 PaaS Market Value 2012-2017
5.3.2 PaaS Sub-Segment Wise Carg During 2012-2017
5.4 System Infrastructure Services/Infrastructure as a Service (IaaS) 2012-2017
5.4.1 IaaS Market Value 2012-2017
5.4.2 IaaS Segment Wise CAGR During 2012-2017
5.4.3 The Compute Segment Projection 2012-2017
5.5 Cloud Management and Security Services 2012 - 2017
5.5.1 Cloud Management & Security Comprised Market Value 2012-2017
5.5.2 Sector Wise CAGR During 2012-2017
5.6 Cloud Adoption Trend SaaS vs. IaaS vs. PaaS vs. BPAaS 2009 - 2013+
5.7 APAC: Cloud Acceleration Info Graphics
5.8 Average Proportion of Cloud Applications by Industry 2011 -2017
5.9 Cloud Investment Percent by Industry Application 2012
5.10 Benefits of Cloud over IT In-House Service 2011 - 2013+
6 Conclusions and Recommendations
List of Figures
List of Tables
More new research studies by the publisher can be found at Mind Commerce Publishing page.