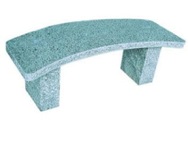 Manchester, CT (PRWEB) September 30, 2012
Dawn Enterprises has just added granite benches to their existing line of concrete, metal, and recycled benches and site furnishings. Dawn Enterprises is a an elite manufacturer of outdoor site furnishings located in Manchester CT, and in addition to benches offers, tables, planters, bollards, and more.
Dawn Enterprises has introduced granite park and garden benches to provide a larger selection of benches for its customers and their seating demands. The new granite benches come in a variety of colors with both flat and curved tops. They are designed to provide durable, weather resistant, low maintenance outdoor seating and are perfect for walking trails, gardens, commercial and residential properties.
Concrete benches, metal benches, benches made from recycled materials, and custom and memorial benches are also available from Dawn Enterprises. Whatever your demands call for Dawn takes pride in being able to cater to the individual and work together to find the best solution. If you would like more information please visit http://www.godawn.com or call to speak to one of their friendly sales representatives at 800-262-3296.