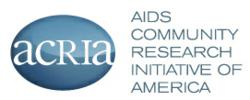 Las Vegas, NV (PRWEB) September 28, 2012
The AIDS Community Research Initiative of America (ACRIA) - a leading HIV/AIDS research, prevention, and advocacy organization founded by a group of physicians, activists, and people living with HIV - today detailed Executive Director Daniel Tietz' role in two workshops at the U.S. Conference on AIDS (USCA), to be held from September 30 to October 3 at Caesars Palace Hotel in Las Vegas. Following ACRIA's successful sponsorship of a conference on HIV and aging at July's International AIDS Conference in Washington, DC, these workshops continue ACRIA's commitment as an internationally-recognized leader in policy and research with respect to older adults with and at risk for HIV:
HIV and Aging: Prevention, Treatment, and Care Challenges of the Epidemic's Fourth Decade
Tuesday, October 2; 2:30-4:00 PM; October 7, Promenade South
This workshop aims to bring a greater understanding of the prevention, treatment and care challenges and concerns experienced by an aging population. The workshop will cover epidemiology, prevention, and care management in the context of multi-morbidity-the occurrence of two or more chronic medical conditions common in older adults with HIV-and caregiving challenges. Recent guidelines developed by the American Academy of HIV Medicine (AAHIVM) targeting HIV-positive older adults will also be shared. Tietz is joined by Ken South of AAHIVM.
Examining the Impact of the Affordable Care Act on Services, Care and Treatment for Older Adults Living and Aging with HIV/AIDS
Monday, October 1; 4:30-6:00 PM; Forum 18, Pool Level
The purpose of this workshop is to examine the HIV and aging public policy and advocacy agenda. The workshop will draw particular attention to the impact of the Affordable Care Act (ACA) on prevention, treatment and services for older adults with and at risk for HIV. Participants will have the opportunity to engage in policy and advocacy discussions around specific HIV and aging-related issues, including the impact on LGBT older adults. Mr. Tietz will address the interconnectedness of the ACA, Medicaid, and the Ryan White CARE Act. Fellow presenters will include: Michelle Scavnicky and Marylin Merida of The AIDS Institute; Aaron Tax of SAGE; and Nathan Schaefer of GMHC.
In addition to these workshops, ACRIA will also be an exhibitor at the conference.
During the conference, Daniel Tietz will be available for media appearances and interviews. Mr. Tietz provides organization-wide direction and strategic vision to advance ACRIA's mission. He is a registered rurse and an attorney who has worked for nearly three decades in government and not-for-profit leadership and management, including public policy development and advocacy, related to health, human services and housing. He previously served as Deputy Executive Director for Day Treatment and Residential Services at Housing Works, Deputy Executive Director for Operations at the Coalition for the Homeless, and as senior staff for the Deputy Commissioner of the Massachusetts Department of Mental Health, among other positions. Mr. Tietz can speak to:
● HIV and its impact on older adults in the U.S.
● The shifting HIV epidemic in the U.S., including the rising number of older adults
● The U.S. National HIV/AIDS Strategy and its impact on people with and at risk for HIV
● The current state of HIV and related illnesses in the U.S.
● The Affordable Care Act and people with HIV, including the importance of Medicaid expansion
● How to effectively engage local, state and federal elected and appointed officials about HIV treatment and prevention
● The future of the Ryan White Care Act and its interconnection with the ACA and Medicaid
● The need for HIV education for health and other human services professionals
● The economy and its effect on HIV services
● The long-term role of AIDS services organizations and community-based organizations
About ACRIA
ACRIA was founded as the Community Research Initiative on AIDS (CRIA) in December 1991 by a group of physicians, activists, and people living with HIV who were frustrated by the slow pace of government and academic AIDS research. Since that time, we have contributed to the development of more than a dozen medications that have received FDA approval, helping countless thousands of HIV-positive people live longer, healthier lives.
ACRIA's accomplishments over the past two decades include: enrolling a diverse range of participants, including women and people of color, in clinical trials for HIV drugs; releasing groundbreaking research on HIV/AIDS in older adults; launching an HIV Health Literacy Program that gives people living with HIV the knowledge they need to take an active role in their own healthcare; publishing a wide range of health literacy booklets on topics including women's treatment issues, older adults and HIV, and drug side effects; and, with GMHC, jointly publishing the influential magazine ACHIEVE, an HIV prevention, treatment and politics quarterly.