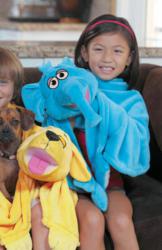 First time at daycare, pre-school, or at a friend's sleepover? A CuddleUppet will keep you company!
New York, NY (PRWEB) September 29, 2012
Jay@Play has received another award from Dr. Toy, which recognized CuddleUppets as a 2012 Best Pick. Earlier this year, Dr. Toy selected CuddleUppets as a 2012 Best Vacation Children's Product.
CuddleUppets are both playful puppets that encourage creative play and practical blankets. Their soft plush head can be used as a small travel pillow for children on planes, cars or in daycare while the fuzzy blanket keeps small children warm. CuddleUppets help children transition from play time to bed time, and we've heard from parents that CuddleUppets comforted sick children recovering from the flu or even spending the night in the hospital. First time at daycare, pre-school, or at a friend's sleepover? A CuddleUppet will keep you company!
CuddleUppets are machine washable and cost less than twenty dollars, making them an affordable gift. Pink Ladybug and Magic Unicorn join the existing CuddleUppet family of Pink Poodle, Blue Elephant, Purple Monkey, Yellow Puppy, Brown Bear and Green Crocodile. CuddleUppets are now available in select retail stores including: Toys R' Us, Meijer, CVS/pharmacy, Rite Aid, Kroger, Safeway, Sears, and Walgreens in addition to http://www.cuddleuppets.com and http://www.amazon.com for $19.99 plus shipping and handling.
About Jay@Play:
Jay@Play International was established in 2004 and is a Hong Kong-based company with a showroom in New York City. The company's products are distributed internationally through companies that promote all of their brands on television. Following the worldwide success of its best-selling MushABellies, Totally KooKoo and Happy Nappers product lines, Jay@Play introduced CuddleUppets in 2012. Little Miss Muffin by Jay@Play is a proud sponsor of Share Our Strength's Great American Bake Sale. Jay@Play International is a subsidiary of Jay Franco & Sons, the industry leader in the home-furnishing industry.