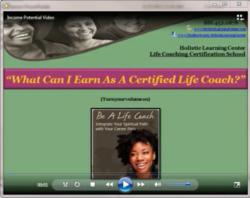 25 years of research into the life's work of some of the most magnanimous spiritual leaders
Forked River, NJ (PRWEB) September 28, 2012
On September 15, 2012 after three decades of research HLC announced that it has revolutionized the life coaching industry with the first authentic life coaching healing modality that uses clinically proven self-help exercises that create permanent behavioral changes. HLC's proven and powerful success system is for aspiring and independent life coaches.
Being a successful life coach has never been so easy thanks to Holistic Learning Center's Life Coach's Success System, the first and only life coaching healing modality available in the world today. HLC uses Cornell University Medical School's method of instruction of see one, do one, teach one to ensure each student arrives at a depth and breadth of knowledge, skill and understanding of what it means to be a professional life coach and to be able to help their clients heal their inner wounds and create the permanent behavioral changes they have been seeking for so long.
Rather than the old world didactic method of life coaching instruction HLC uses the Socratic Method also known as maieutic instruction where the inner, innate wisdom of students is elicited by the instructor rather than lectures being delivered. This allows each student to uncover, ground in and trust their own intuition and personal power.
HLC's curriculum is a college level professional training program that is based upon 15 years of clinical testing of its methods, modalities and exercises that were customized from over 25 years of research into the life's work of some of the most magnanimous spiritual leaders, teachers, gurus and philosophers of the last 2500 years.
HLC Life Coaches are so successful because they are taught to facilitate the diagnostic exercises that clearly determine their clients primary self help objectives. These powerful psycho-spiritual enquiries cut right to the heart of the matter, getting to the root cause of where the inner block lies, making its eradication cause for tremendous change, expansion and the freeing up of new found energies that can be poured back into a clients work, life and relationships.
In addition to being taught how to uncover the essential core objectives of a client, HLC's life coaches are instructed how to customize and personally tailor a regimen of clinically tested exercises and Self Mastery assignments that help their clients gain the knowledge, understanding and power necessary to detach from and rise above their personal issues, negative beliefs and seemingly impossible challenges.
HLC life coaches are trained to teach their clients how to develop a new, Self empowered identity and the critical life skills needed to feel confident, strong and able to remain aware of and free from the force of the negative beliefs they have been programmed with that have prevented them from living the lives they truly wish to live.
HLC's Life Coach's Success system is so powerfully effective in the development of a professional life coaching career because HLC's students are taught to be teachers and practitioners who grok that they teach what they most need to learn and heal, one student at a time, beginning with themselves.