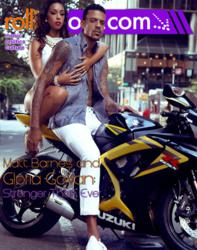 Atlanta , GA (PRWEB) September 29, 2012
Rolling out's senior writer Danielle Canada sits down with one of reality television's sexiest couples, NBA player Matt Barnes and "Basketball Wives LA" star Gloria Govan, who talk about reigniting the flame, cherishing privacy and baby fever.
A nine-year NBA veteran, Barnes opens up about his new outlook on love and his relationship with his wife, "This time around we're gonna do what works for us and not what society wants us to do."
Gloria concurs and she doesn't bite her tongue when asked about her disdain for fellow wives Jackie Christie, Shaunie O'Neal and Evelyn Lozada. Read this week's cover story to find out who she says is, "Someone you have to accept … she's like a beauty mark or a birthmark."
"Rolling out has captured the images of a beautiful couple," said Munson Steed, publisher and CEO of rolling out. "We are highlighting their perspectives while providing great content for people to look forward to, both digitally and on video. Love is in the air at rolling out."
Visit rollingout.com for the one-on-one interview with the loving couple. Be sure to check out their exclusive Manhattan photo shoot and behind-the-scenes video by photographer DeWayne Rogers.
ABOUT rolling out MAGAZINE/MEDIA
Rolling out, the nation's largest free urban weekly, is a digital and print magazine that focuses on the black experience in response to entertainment, politics, fashion, culture, sports and lifestyle points of interest. Headquartered in Atlanta, rolling out is positioned as the voice for the African American experience, using its newspaper as a platform in the marketplace to express urgency for education reform, and to document entrepreneurial endeavors and other relevant issues in the Diaspora. For information on rolling out, please log on to http://www.rollingout.com.