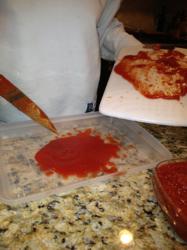 "We have many exciting things going on and appreciate all of the support thus far, so we have decided to offer new, exclusive rewards," mentioned Ahlmen.
New York, NY (PRWEB) September 28, 2012
After updating FLOW's Kickstarter backers about his recent trip to China, Ahlmen also announced the introduction of exclusive rewards; a limited edition Simpleware apron and a Food is Sexy Reward Package.
For a pledge of $15 or more, backers of the project will receive the limited edition Simpleware apron, and for a pledge of $99 or more, supporters will receive the Food is Sexy Package. This package includes a special edition FLOW board (red tray with a logo and black board), 8 recipes for romantic and seductive meals which utilize the cutting board, a DVD with videos of Chef James Ballingall preparing some of the recipes and teaching knife skills and other proper cutting board use.
Chef Ballingall is a culinary expert who has experience as an executive chef, hospitality operations manager, culinary lecturer and more. He also runs Food is Sexy which is an online website dedicated to seductive recipes and food. The sexy meals created by Chef Ballingall on the DVD include a variety of foods which allows you to use all the different color FLOW cutting boards. Other new rewards include cooking/food porn classes and exclusive trips to Australia where those who pledge at this level will meet Chef Ballingall in person and learn to cook and create food porn with him.
Simpleware launched a Kickstarter campaign for the world's first perforated cutting board, FLOW, on September 4, 2012 where it quickly gained popularity within the food industry and among extremely supportive Kickstarter backers. Now that the project has reached 50% of its funding goal of $25,000, Ola Ahlmen and Peter Hauser, creators of the FLOW cutting board, have released new rewards to supporters.
"I just got back from a very exciting and productive trip to China. We finalized the design details for the FLOW perforated cutting board, started pre-production prototypes, began the tooling and finished the apron design," mentioned Ahlmen. "We have many exciting things going on and appreciate all of the support thus far, so we have decided to offer new, exclusive rewards!"
FLOW's Kickstarter project only has 17 days left to reach its funding goal. If you'd like to receive a FLOW perforated cutting board in time for the holidays, be sure to pre-order it here: http://bit.ly/FlowKS.
To stay up to date on FLOW's Kickstarter campaign and learn about new rewards, be sure to follow them on Twitter @Simpleware and Like them on Facebook at https://www.facebook.com/simplehouseware.
About Simpleware
Simpleware is a new brand that offers unique kitchen products. Founders Peter Hauser and Ola Ahlmen first created Simpleware with their introduction of FLOW. Peter's design and development background combined with Ola's experience bringing products to market has built the perfect relationship for success. Visit http://www.simplehouseware.com to find out more information on Simpleware.