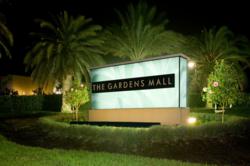 The Gardens Mall opened in 1988 and has grown in scope and size just like the city in which it is located.
JUPITER, Fla. (PRWEB) September 30, 2012
Five new stores and another tasty restaurant are opening at Palm Beach County's premier shopping destination -- The Gardens Mall.
The 1.4-million-square-foot retail outlet now features Finish Line, Lids, Oil & Vinegar, Pandora, Soma Intimates and Chipotle Mexican Grille.
"The Gardens Mall is almost 100-percent leased, which is remarkable as the national economy has not picked up noticeable traction in the past year in the retail industry," mall spokeswoman Enid Atwater said.
The exciting additions are good news not only for those with homes in Palm Beach Gardens, but also for the local economy. Several new employment opportunities now are available at the mall.
Among the news stores added to the eclectic retail mix, Finish Line is a national athletic-wear retailer, Lids offers all manner of hats and headgear, and Oil & Vinegar is a gift shop of culinary proportions that features Mediterranean-style products, including more than 40 varieties of gourmet oils and special vinegars.
Pandora is a jewelry phenomenon featuring iconic Danish designs and a full line of accessories, and Soma Intimates offers lingerie for women of all shapes and sizes.
Chipotle Mexican Grille – a welcome addition to the food court – serves health-conscious favorites and fresh salads using sustainable foods grown on Palm Beach County farms and ranches.
In addition to the new offerings, The Gardens Mall also is debuting renovations and store expansions throughout the bi-level facility. American classic clothiers Brooks Brothers has expanded to a nearly 11,000-square-foot location in the mall, while Louis Vuitton, the French maker of exquisite leather bags, shoes and collectables, now occupies 4,582 feet.
Ann Taylor has grown to 4,139 square feet on the lower level, while White House | Black Market revamped its look and relocated to a 3,343-square-foot spot.
Godiva Chocolatier is renovating its location near the stately courtyard entryway to Saks Fifth Avenue, where shoppers are able to see the decadent hand-dipped creations and sultry sweets.
The Gardens Mall opened in 1988 and has grown in scope and size just like the city in which it is located. Soon after the birth of Mirasol in Palm Beach Gardens, Nordstrom opened a signature anchor store in the mall – a boon for the retail industry.
The mall continues to attract personal shoppers from all over the world while maintaining its image as a South Florida-style shopping center. It has become part of the local landscape for Palm Beach Gardens homeowners, many of whom moved to the area through the help of Waterfront Properties and Club Communities sales agents.