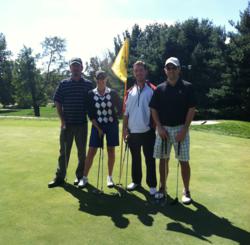 Tysons Corner, VA (PRWEB) September 30, 2012
Employees from the bank as well as golfers from other companies enjoyed a day of golf followed by a silent auction and dinner. All proceeds from the event went to The ARC of Northern Virginia (The ARC), Every Citizen Has Opportunities (ECHO), Service Source and Loudoun ARC (LARC). The Dulles Rotary is determined to provide support and awareness to these four organizations and continues to believe in the achievements that can be attained through these sponsorships. The organizations continue to provide counseling, training, and support services that give opportunities to people with disabilities to find jobs in both private industry and sheltered workshops. Check out the video on the right from last year's event.
Virginia Heritage Bank, headquartered in Tysons Corner, VA, with total assets of $700 million serves Northern Virginia and surrounding communities, with branches in Fairfax, Gainesville, Chantilly, Tysons Corner and Dulles Town Center. VHB is a full service bank providing an array of retail and commercial financial services.
David P. Summers
703-277-2200
http://www.vhbank.com
http://www.vhbmortgage.com
OTCBB:VGBK
Member FDIC