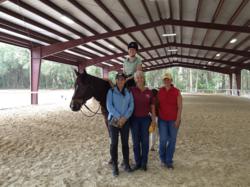 (PRWEB) September 28, 2012
Laura Causey's Plumwood Arena in Altoona, Florida is the site of this season's insightful television series, "Horse Master with Julie Goodnight". The 20 m by 60 m standard-size dressage ring is covered with pre engineered steel from Allied Steel Buildings. Situated on the edge of the Ocala National Forest, Plumwood Arena provides a picturesque setting for the horse and rider. Goodnight filmed eight episodes of her television series that are now airing Mondays through the month of November. She also conducted an intimate clinic at the arena, concentrating on equine behavior and communication.
With Plumwood Arena's ideal location and excellent footing, it is often utilized for clinics and training. Causey ventured into the project partly out of necessity. She said, "It started out as a dream really, I needed a place to ride. I found Allied online and they were just so easy to work with, they helped me make my vision a reality."
Causey met Goodnight several years ago and was thrilled with the opportunity to be the host venue for her show. Causey said, "You would not believe how many calls I've been getting, this has really gained so much interest for us." Plumwood Arena was a welcome accompaniment for "Horse Master with Julie Goodnight", the cover kept cameras rolling even in the rain and provided relief from the Florida heat.
Nearly four years after the opening of her covered dressage arena, business is booming for Causey. She books monthly clinics, bringing in more talent and visitors to Marion County, which has been dubbed as the "Horse Capital of the World" with over 200 breeding and training farms. Causey has clinics lined up at Plumwood Arena through the rest of the year, wrapping with Wendy Murdoch who will ride into town this December. In the future, Causey plans to bring more clinicians into town, and has expansion plans.
Causey built her arena with prefabricated steel from Allied Steel Buildings, this allowed her to have 20 m by 60 m of uninterrupted column-free space required for a standard-size dressage ring, an option that was not available with a stick-built structure. Causey said, "Plumwood Arena has proven to be an extremely versatile space."
For now, you can check out Julie Goodnight and Plumwood on RFD-TV. Tune in to this week as a dressage rider learns about collection. "Horse Master with Julie Goodnight" imparts important information to develop communication and riding skills for both disciplines. Causey said, "Julie's clinic was enlightening, I used a very green horse and it definitely helped his behavior. She gave both of us more confidence." Watch "Horse Master with Julie Goodnight" on RFD-TV, Mondays at 12:30 p.m. and 10:30 p.m. EST.
About Allied Steel: Allied Steel Buildings is a leading supplier of pre-engineered steel buildings and prefabricated metal buildings systems. Allied Steel Buildings offers exceptional prefab metal structures with outstanding customer service, committed to assisting you through each step of the process. Our projects have been completed around the world, with a concentration in the USA, Canada and Island Nations. For assistance from our Project Managers, including design services and expert tips call 877-997-8335.