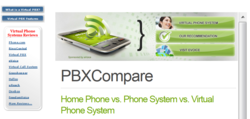 ... customers can save more than $8,000 in annual telecommunication costs with a virtual phone, or virtual pbx system.
Austin, Texas (PRWEB) September 28, 2012
According to the September 2012 NFIB Small Business report, more than a third of the businesses with 5-19 employees cite "lower profit margins to remain competitive" as their biggest performance barrier. Therefore it is imperative that start-ups and new companies continue to minimize their operating costs. In the new study called, Home Phone vs. Phone System vs. Virtual Phone System, PBXCompare and eVoice give business owners a side-by-side look at the various features and costs associated with a standard home line, traditional business phone system and a virtual phone system.
Standard home phone lines come with local and long distance calling, caller ID, call waiting and, in some cases, voicemail, but is not conducive to a business with more than one employee. Traditional phone branch exchange (PBX) systems used by older, established companies come with a lot of helpful features like call routing, call recording, and professional voice greetings, but are typically too expensive for small businesses. With the recent movements in cloud technology, entrepreneurs can access these features at a much more affordable cost making their businesses more accessible, cost efficient and professional through virtual PBX systems. According to eVoice, "Unlike traditional phone systems a virtual phone system is hosted by a service provider. Because of this, the user doesn't need to buy expensive equipment or spend money on maintenance". This case study indicates that eVoice customers can save more than $8,000 in annual telecommunication costs with a virtual phone, or virtual PBX system.
Standard virtual PBX features include:

Local or toll-free business number
Multiple extensions and a dial-by-name directory
Professional voice greeting
Call screening, recording and routing to multiple extensions
Sequential ringing
Detailed information on call usage and history
Automated attendants that greet callers and offer call-waiting music while they are on hold
Voice mails can be sent to text or email
Mobile phone apps that allow you to make calls over WIFI
Things to Highlight for Small Business Owners and Start-ups
Multiple Extensions and Auto-Attendants for Call Segmentation
Multiple extensions and auto-attendants can be very valuable to a company with a little as one employee. Most start-ups operate with a small number of employees that take on multiple responsibilities and run many departments. By giving each department, not employee, a different extension the auto attendant categorizes the caller's purpose by transferring the call to a specific department/ extension (i.e. sales, trouble-shooting, current customer, etc.) This also gives new companies a Machiavellian style edge to your business, making potential customers and business partners believe your business is much larger than its actual size.
Virtual PBX Mobile App Advantage
Most virtual PBX mobile apps allow users to make phone calls via WiFi. Therefore if you need to make a phone call and are traveling in an area that does not have signal on your phone network, traveling internationally and do not want to pay inflated international phone rates, or need to make phone calls during plane trips, a virtual PBX, or virtual phone app will make all of this possible. Making phone calls on an airplane is still being debated, although there have been cases on many private or chartered airlines that now allow for making phone calls over WiFi.
More About PBXCompare:
PBXCompare.com provides small businesses and consumers an online comparison of the top virtual PBX services available to help save you time and ensure you are making the best service selection based on your needs. Get cost comparisons, consumer reviews and free trials to online fax providers like eVoice, RingCentral, Phone.com and more. Find out more at http://www.PBXCompare.com/
###