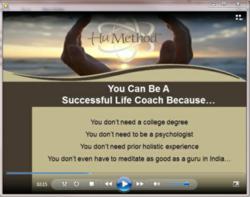 When a student listens to these powerful truths in first party their entire subconscious mind
begins to be reprogrammed
Forked River, NJ (PRWEB) September 29, 2012
On September 5, 2012, Holistic Learning Centers, Inc. (HLC) announced that the Human Handbook Audio Book was recorded in first party. This revolutionary development will exponentially increase the speed and power by which life coaching clients achieve permanent behavioral change.
Holistic Learning Centers proprietary clinically proven, results driven Life Coaching and Self-help training system, known as the HuMethod, ™ was created to help life coaching clients and self-help buffs, achieve core level permanent behavioral change in the shortest amount of time. The creation of the Human Handbook Audio Book recorded in first party is both an effective and simple first step toward this end.
This powerful psycho-spiritual method for the cultivation of empowerment and awareness can be done without taking any extra time out of your day because you can listen to the Human Handbook Audio Book while your hands are busy doing other things.
After 25 years of research into the body of work of dozens of nationally known self-help coaches, such as: Louise Hay, Wayne Dyer, Marianne Williamson, Eckhart Tolle, Carolyn Myss, Deepak Chopra and Ram Dass and 15 years of clinically testing hundreds of self-help exercises inspired by these luminaries, HLC has brought the powerful consciousness building exercise of communicating in first party into the world of audio self-help and life coaching practice and study.
Reading or speaking in first party means saying "I" or "me" instead of "you" helping life coaching clients to internalize and emotionalize their life experience and achieve high degrees of permanent behavioral change.
The HuMan Handbook and Human Handbook Audio book contains wisdom on life coaching topics such as presence and beliefs, self-acceptance and approval, boundaries and forgiveness, parenting, laws of manifestation and creation, ego, paradox and the law of detachment.
When a student listens to these powerful truths in first party their entire subconscious mind begins to be reprogrammed to take ownership of these empowering beliefs, concepts and philosophies making it easier for them to be integrated into their lives, allowing them to begin to create new experiences and to see themselves and their experiences in a new light. How would this tool benefit you as a life coach?
Listening to the HuMan Handbook Audio Book recorded in first party is a unique experience, one unlike any that most people are accustomed to. As a result the neuro pathways in the brain begin to be re-wired to create powerful, positive, permanent behavioral change for everyone seeking a growth in and deepening of awareness. This tool is one of many that Holistic Learning Centers, Inc. life coaching students learn to use with their clients.