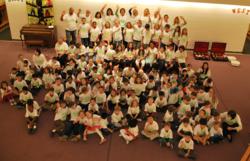 Founder Harriet Rowland's vision of school where "loving kindness would prevail" continues to inspire The Long Ridge School 75 years later.
Stamford, CT (PRWEB) September 29, 2012
In 1938, Harriet Rowland, an educator and mother of young children went searching for a school where children were valued as individuals with distinct ways of learning, and where joyful scholarship took place in an atmosphere of "loving kindness." Finding no such school in Stamford, Mrs. Rowland founded The Long Ridge School in her home, originally a Nursery school with six children.
Seventy five years later, Long Ridge continues to provide a caring and academically challenging environment where children's innate curiosity and creativity are encouraged and where learning is hands-on, personally meaningful and individualized for each student. The school now includes a Beginners program for twos, Nursery and Kindergarten through the Fifth Grade.
The Long Ridge School began celebrating its 75th year with the children at this week's assembly with a rousing rendition of "Happy Birthday," to Long Ridge School, sung by all the students, accompanied by the Grade 5 Hand-bell Choir. A group picture with students and staff wearing their special 75th tee shirts commemorates the occasion.
This Saturday, September 29, the school will host the 75th kick-off celebration for grown-ups with a fabulous party and award-winning Broadway entertainment in the new Arts and Athletics Center. Joe DiPietro, two-time Tony Award winning lyricist/writer for the 2010 Best Musical, "Memphis," and lyricist/ writer for "I Love You, You're Perfect, Now Change," and "Nice Work If You Can Get It," among others, has written the show exclusively for The Long Ridge School's birthday. The performance will feature Broadway stars, Jennifer Simard ( "Sister Act," "Shrek," and "Putnam County Spelling Bee") and James Monroe Iglehart ("Memphis" and "Aladdin").
Head of The Long Ridge School, Kris Bria, writes: "The world and LRS have changed in so many ways since 1938. Harriet Rowland could not have anticipated the Internet, cell phones, Ipads, Starbucks, and many other modern realities. Yet, she founded a school that welcomed and valued diversity, acknowledged that children have different learning rates and styles and provided an enriched, child-centered curriculum. Harriet was way ahead of her time! Harriet's vision of a school where 'loving kindness would prevail' continues to inspire the school today. Happy 75th LRS!"