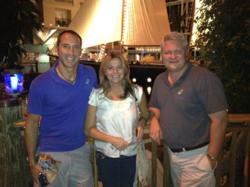 We [BRC] are so excited to be Platinum Sponsors of this year's conference. The NCAD is one of the nation's leading conferences for drug and alcohol recovery and prevention. -Marsha Stone, CEO of BRC
Manor, TX (PRWEB) September 30, 2012
Benchmark Recovery Center (formerly Mark Houston Recovery), is pleased to be Platinum Sponsors of the National Conference on Addiction Disorders (NCAD). The conference is one of the premier conferences on drug and alcohol addiction disorders and is taking place this year in Florida from September 29, 2012 through October 2, 2012.
Discussing Addiction and Drug & Alcohol Recovery
Over the course of several days, the NCAD will feature a variety of professional speakers and more than 130 exhibits from different organizations. Attendees will be able to enjoy refreshments, appetizers and the opportunity to meet and connect with new people. Some of the key dates and events to remember include:
Remember the Date!
Saturday, September 29 | 5:30 p.m. – 8:00 p.m. | Welcome Reception
Sunday, September 30 | 11:30 a.m. – 1:00 p.m. | Lunch in the Exhibit Hall
Sunday, September 30 | 2:30 p.m. – 4:00 p.m. | Networking in the Exhibit Hall
About the conference, BRC CEO, Marsha Stone commented:
"We [BRC] are so excited to be Platinum Sponsors of this year's conference. The NCAD is one of the nation's leading conferences for drug and alcohol recovery and prevention. At BRC, we strive to assist recovering addicts by providing them with the skills and tools that they will need in order to help them achieve permanent sobriety. And part of being able to continue to provide these great services includes staying up-to-date with the latest innovations, treatments, technology and medical issues surrounding the industry. And the NCAD is just one example of the ways in which addiction experts and healthcare professionals are working together to achieve that goal."
About The National Conference on Addiction Disorders (NCAD) 
The NCAD is the premier conference showcasing new ideas and innovations in the fields of recovery and prevention, addressing treatment, administration, finance, facility design, technology, and medical issues.
About Benchmark Recovery:
Formerly known as Mark Houston Recovery, Benchmark Recovery Center (http://www.benchmarkcenter.com/), is a Texas drug and alcohol recovery center offering a high level of care that includes learning the life skills and spiritual practices needed to help residents free themselves from alcohol and drug addiction and reclaim their lives.