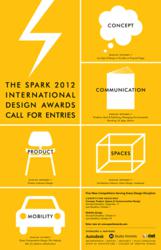 NYC, NY (PRWEB) September 29, 2012
Hundreds of designers, architects and manufacturers have submitted their best hopes for winning the coveted 2012 Spark Design Awards. "This is the famous final week of the submission period for Spark," said Spark President Peter Kuchnicki. "Famous in the design community because more than half of the entrants wait until the last week to register, and it's a bit mad. We're here in support on weekends and well into the wee hours. By late in the night of October 8th, 99% of our friends will be ready for the judge's vote."
Spark Accepts Entries Until Oct. 8
Organizers urge designers to promptly enter their work. "We can and do accept work right up to the deadline," said Kuchnicki. "But it's best to not risk a last-second entry mistake. This will be the only opportunity until 2013 to take part in a Spark."
Expecting the Unexpected: from Medical Devices to Street Furniture
What can be entered in a design competition? In the five different Spark Awards (Spark:Concept, Spark:Communication, Spark:Spaces and Spark:Mobility), almost everything that can be designed will be represented. These forms include buildings, interior design, packaging, electronics, exhibitions, graphic designs, lighting and kitchen devices. "We've seen seaplanes, toys, heavy equipment, street lights, underwear, combat radios-- it's an amazing array," says Exhibit Manager Aryn Shelander. "We never know what to expect and it's quite impossible to plan for. Of course, that's the fun of it, too!"
What Happens Next?
The Spark team does have a framework that guides this, by its very nature, an unruly process. "Our next steps begin a process of sorting and organizing the designer's work for the judges, said Shelander. "Each Jury will first choose Finalists in a two-phase selection system. Then the Finalist designs are delivered to our host judging venue, the Autodesk Design Gallery. The various juries assemble there and judging takes place the last week of October. The Spark Awards will be announced shortly afterwards. I know it all sounds so complicated, but rest assured--it's much more so," she laughed.
What's a Designer to Do?
The organizers have a simple answer to that one. "Get your designs in today. Visit the Sparkawards.com website and get it in!" Designers can sign up at https://competitions.sparkawards.com/
Winners in Next Sparkbook
The winners of these Awards will become the stars of the next Spark Design Awards Annual, to be published next year. The 2011 Awards edition was recently published and is available at Amazon.
More information about this organization and these competitions can be found at the Spark website landing page at http://www.sparkawards.com
Spark is proudly sponsored by Autodesk, Core77, ArchNewsNow, Archinect, Bustler, Pluo Consulting and RIOT Creative Imaging.