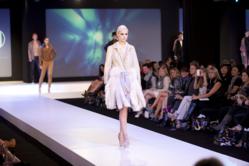 Creating this fabulous opportunity for local designers to compete and show their point of view was a natural next step.
Bellevue, WA (PRWEB) September 28, 2012
After years as an experienced leather and fur fashion designer, Carole McClellan was selected as the winner of the Fashion Funds prize at last night's first Independent Designer Runway Show at The Bellevue Collection's Fashion Week. McClellan's prize package includes $5,000 in Fashion Funds to help build her business donated by The Bellevue Collection, Fashion Group International Seattle Chapter and Femfessionals in Seattle.
As the first fashion event of this year's weeklong Fashion Week at The Bellevue Collection, The Independent Designer Show showcased the inspiring and creative designs of eight local fashion designers in a dynamic and spectacular runway event. In partnership with Fashion Group International (FGI) and Femfessionals in Seattle, the show was a culmination of months of work by the designers, organizers and a judging panel to bring a spotlight on the strength of the independent designer movement in the Puget Sound area.
The Bellevue Collection launched the Independent Designer Show as a way to support the local designer industry and foster relationships for future growth. "Fashion is our largest category of retail at the Bellevue Collection," states Jennifer Leavitt, VP of Marketing for The Bellevue Collection and Kemper Development Company. "Creating this fabulous opportunity for local designers to compete and show their point of view was a natural next step. We have an opportunity to assist the growth of the fashion offering in the market and to extend our helping hand to an industry that is so important to our company and community." Fashion Week in Bellevue was started seven years ago to bring to fruition a vision of the owner of The Bellevue Collection, Kemper Freeman to make Bellevue the fashion destination for the Northwest.
"This show was a big gamble for The Bellevue Collection," said Cynarah Ellawala, Fashion Marketing Consultant, participant in the early event planning and member of board of directors for Seattle FGI and Femfessionals in Seattle. "Nobody has ever taken on a production like this for independents, but Sarah Butler (The Bellevue Collection) and the whole team were determined to make it happen. It was a wonderful night for everyone involved." She went on to say about the designers, "They went into this experience not concerned about who won because they all got so much exposure, praise and recognition for their hard work. Having Vogue magazine in the audience to see their work was also very impressive and exciting for them all."
When first introducing her work to the panelist in June, McClellan said, "I've always worked in fur and leather with recycled and repurposed pieces that I completely take apart and put back together into a contemporary configuration." Her new collection expanded upon her traditional themes into a completely new collection for men and women.
"Experienced designer like Carole step outside of those materials (referring to leather and fur) to work with denim and other fabrics for her show," said Laura Cassidy, panelist, mentor and style editor, Seattle magazine. "She designed some amazing fabrics that were outside of her comfort zone and exclusive to the Carole McClellan line. If Seattle gets tagged with something, it's practical. If we could change that, it's practical and stylish, and I think that is something that made Carole the clear choice."
"When you do menswear and womenswear (which are both represented in the Carole McClellan line) and you're thinking like she does, that's impressive," said Bruce Pflaumer, panelist and mentor, Pstyle Image Consulting. Addressing the full roster of designers, Pflaumer added, "The level of talent in the young designers was very inspiring. When we started, we saw sketches, swatches, and pieces not finished. By the night of the show, those swatches evolved into amazing collections from each of the designers; each representing their own point of view."
"When I think of the Bellevue Collection it is a destination place to shop for luxury goods," say McClellan. "When this (opportunity) came up I thought, 'O.K., this is fabulous'. I could never as an independent put up this type of staging and have full roster of models and hair and make-up and all of the PR support that goes with it. At her acceptance last evening, McClellan said, "I am speechless. I am so honored and thank everyone for this wonderful experience."
More than 500 people in the audience applauded the collections from the eight local designers selected by the judges this summer out of 19 designer presentations.
Presenting Designers:

Anne Sylvain by Patricia Raskin
Ampersand As Apostrophe by Jessica Park
Bd Homme by Banchong Douangphrachanh
Built For Man by Francisco Hernandez
Carole McClellan by Carole McClellan
KateS Mensah by Kathy Sabin-Mensah
Masha Osoianu Design by Masha Osoianu
Olga Szwed by Olga Szwed
The designers were joined onstage with collections by Seattle-area NBC's Season One Fashion Star contestants Lisa Vian Hunter of Vian Hunter House of Fashion and Lizzie Parker. Parker opened the show will her free flowing collection featuring Parker's unique style of working in jersey and other soft fabrics. Vian Hunter closed the show by previewing her spring 2013 collection punctuated with bright oranges and pinks for dresses, suiting and blouses along with her signature "little black dress", which was purchased for stores Macy's on the NBC Fashion Star program last March.
"Being a part of the Independent Designer Showcase gave me a career defining moment," said Lizzie Parker, NBC Fashion Star participant and featured designer. "This validation of my years of hard work is thanks to the dedication of the Bellevue Collection supporting our local design community."
The selection panelists were:

Jan Klier, Regional Director, Fashion Group International Commercial Photographer & Visual Assets Expert
Bruce Pflaumer Owner, Pstyle Image Consulting
Sarah Butler, Fashion Events and Editorial Coordinator, The Bellevue Collection
Rebecca Luke, Key Costume Designer, Rebecca Luke Costume Design, Co-Founder & Sr. Stylist, Sustainable Style Foundation, CEO/Founder at les Egoistes, LLC & Rebecca Luke Style
Vivian Miller-Rahl, Co-Director FGI International
Laura Cassidy, Style Editor, Seattle Metropolitan, Editor-in-Chief, Seattle Met Bride & Groom, and Editorial Director, Sagacity Bride & Groom.
Special thanks to Cynarah Ellawala, Fashion Marketing Consultant and member of board of directors for Seattle FGI and Femfessionals in Seattle, for initiating the dialog with local designers and partnering on the development of the process.
After viewing the final step in the designer's process, the runway show, Rebecca Luke, panel member, commented, "I was honored before, but am even more honored to have been a least a little bit of the process. I can't praise The Bellevue Collection enough for curating, incubating and presenting a show Seattle can be proud of."
"The Bellevue Collection deserves lots of accolades for pulling off the first ever Independent Designer Showcase. Not only was it an expertly executed and super fun show, the house was packed with Seattle style scene supporters," said Cassidy. "I saw stylists, buyers, and top sales management personnel from some of the best shops in town. The project was set up to put designers in direct contact with industry professionals. Because of our show, Lisa Hunter got a showroom rep, Francisco got a backer for his next big fashion show, Jessica Park got a ton of orders at New York Fashion Week, and the list goes on. I predict that by 2015 we'll need two or three shows to parade all the local fashion talent. Can't wait!"
To view the video announcing Carole McClellan's win, go to http://youtu.be/8maN6FLE-tI. Go to http://www.thebellevuecollection.com/fashionweek to view videos taken about the Independent Designer event throughout the summer and early fall.
About The Bellevue Collection
Located in the heart of Bellevue, Washington, The Bellevue Collection, owned by Kemper Development Company, includes Bellevue Square a super-regional upscale shopping center, Bellevue Place, a mixed-use property featuring the Hyatt Regency Bellevue and small boutiques and Lincoln Square anchored by the Lincoln Square Cinemas, restaurants, home furnishings and The Westin Bellevue hotel. With a distinctive collection of 250 of the finest shops, 23 sit-down restaurants, a 16-screen premier cinema, 1,000 luxury hotel rooms and 10,000 free retail parking spaces, all in one location. The Bellevue Collection is shopping, dining and nightlife and entertainment experience unlike any other in the region. It is located on Bellevue Way between NE 4th and NE 10th Streets in downtown Bellevue, just across Lake Washington from Seattle.
About Fashion Group Seattle
The Fashion Group International is a global, non-profit, professional organization with 5000 members in the fashion industry including apparel, accessories, beauty and home. The FGI mission is to be the pre-eminent authority on the business of fashion and design and to help its members become more effective in their careers. To do this, FGI provides insights on major trends in person, online and in print; access to business professionals and a gateway to the influence fashion plays in the marketplace.
About Femfessionals
Femfessionals in Seattle is the 27th national chapter. They support women in businesses and host regular connection events, pink collar workshops and around town socials for diverse groups of professional women looking to make strategic connections to strengthen their business and social circle. A Femfessional is a savvy business woman characterized as positive, open-minded, driven, professional, ambitious and desirous of forming strong strategic connections with similar minded professional women to benefit each other personally and professionally and to benefit their community. Not only is she motivated to succeed, she is passionate about the success of others around her. A Femfessional is giving of herself and more than willing to help when she is needed. She wants to make an impact in the world, starting with the betterment of her City, and grow as a business professional and a woman. She is quite remarkable! For more, visit, http://www.femfessionals.com.