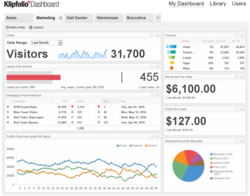 Ottawa, Canada (PRWEB) September 30, 2012
Klipfolio Inc. today announced the release of three new articles for its KPI examples section, a library of departmental KPIs for organizations interested in implementing a business intelligence solution. Key performance indicators (KPIs) and business metrics are an important part of monitoring business performance. At the core of Klipfolio's development philosophy is the idea that any organization, department, or individual should be able to develop relevant KPIs and use them to make better, more informed decisions.
Here is an overview of each new article:
Insurance metrics: The secret of the world's most successful insurance organizations is monitoring the right metrics and KPIs to ensure they strike a balance between risk and reward.
Retail KPIs: In the fast paced world of retail, having the right metrics and KPIs is essential for staying competitive. If you aren't measuring it, you are likely missing key facts about your business and are losing out on important opportunities.
SEO KPIs: Search marketing is about measuring the effectiveness of your campaigns and making the adjustments needed to attain a high ROI. With the right SEO KPIs and metrics, you have the insight needed to run a successful campaign.
As more businesses, large and small, begin to consider implementing a BI strategy, they are discovering the need to develop ways to monitor business performance. One of the most common and effective ways to monitor business performance is to formulate key performance indicators (KPIs) for each department in their organization. KPIs typically simplify complex data sets to present data in an actionable and meaningful way. By providing businesses with KPI examples for each department in their organization, Klipfolio aims to provide organizations with the foundation for an effective BI strategy.
About Klipfolio Inc.
Klipfolio develops Klipfolio Dashboard – a web BI dashboard – to help the Fortune 1000 increase the visibility of key performance indicators for informed decisions that improve performance and profitability. Klipfolio Dashboard is the only enterprise dashboard that presents information where it's always visible and actionable. Clients include Intel, Staples, Aviva, Baxter Healthcare, and Lufthansa.
For more information visit http://www.klipfolio.com, call +1.877.233.6149 US and Canada or +1.613.233.6149 Worldwide, or email sales(at)klipfolio(dot)com.
For media inquiries only, please contact:
Allan Wille
+1 613 233 6149
press(at)klipfolio(dot)com