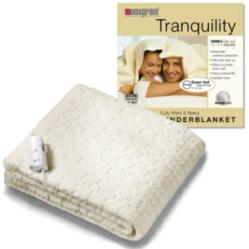 (PRWEB UK) 30 September 2012
CNM Online is proud to announce a range of Electric Blankets which will provide warmth and comfort, and make bedtime a pleasurable, relaxing experience. CNM Online deal in only the very best in Electric Blankets from well-known and trusted makers, and they are extremely safe to use. All quality Electric Blankets now operate on a much lower voltage, normally around only 24volts as opposed to the older blankets that required 110-240volts. Electric Blankets from CNM Online are superior blankets that are not only safe, but economical to use. They come in different sizes, King size, Double and Single, and some King size and Doubles come with dual controls, which means that temperatures on both sides of the bed can be controlled individually to suit the occupants.
CNM Online have a large range of well-known and popular Electric Blankets including; Tranquility Super King size fully fitted Electric Blanket, Bliss Luxury single Electric Underblanket, Bliss Luxury double Electric Blanket, single control, Beurer Therapeutic Heating Pad Rapid Turbo Heat-Up, Serenity King Size dual-control Electric Blanket, Bliss Luxury King Size dual control Electric Blanket, Tranquility King Size Electric Blanket fully fitted, Monogram overblanket single Electric Blanket, Monogram Overblanket dual King Size, Serenity Double Size dual control Electric Blanket, Morphy Richards Anti-Allergy Electric Blanket single, Beurer Rheumatherm Magnetic heat Pad, plus many more models.
Electric Blankets from CNM Online reduce moisture and eliminate the need for anti-bacterial treatments, and they will extend the life of your mattress. Electric Blankets from CNM Online contain an overheat safety feature that will automatically turn off the blanket if it becomes too hot. The newer quality models also come with rheostats which measure the total heat generated not only by the blanket, but by the human body.
CNM Online has a large range of Electric Blankets which are designed to suit the taste of every individual and offer the ultimate in comfort, with highly economical running costs for even the most discerning customer. CNM Online has a selection of blanket accessories which have consequently increased their online inventory.
CNM Online is a well-known and trusted name in online Electronic Products, with over 200,000 customers, many of whom return again and again. Delivery times are shown alongside each product and CNM Online offer a secure online ordering service.
To find out more, you can Email or call and our team of advisors are always on hand to offer any help or advice you may need.
For reliable and authentic information on electric blankets, click on: http://www.cnmonline.co.uk/Electric-Blankets-c-44.html