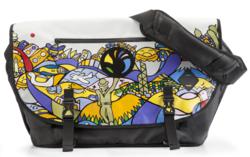 Charlotte, NC (PRWEB) September 30, 2012
Sometimes when faced with design choices it's better to get the opinion of the public. This is the case at SLAPPA today. SLAPPA makes shoulder bags, sleeves and backpacks designed for laptops, the popular Transit Messenger bag offers customers the opportunity to have one bag with multiple flaps that zip on and off and new flap designs are needed to meet demand.
The library of images from New York street artist PESU is large so SLAPPA narrowed the selection down and decided to let the public decide which ones should be placed into production. Anyone can vote on the designs at http://bit.ly/votepesu and be entered to win a Transit Messenger bag and set of 5 flaps. Voting started on September 14th and will end on October 22, 2012.
SLAPPA introduced the Transit Messenger Bag made especially for laptops in early August of this year and the bag is already a big hit.
Yushi Naito a.k.a. PESU started his career as a graffiti artist in his home town of Shizuoka located near Mt.Fuji. As a young adult he relocated to Tokyo and continued his work as an artist. Moving to the United States in 2001 PESU spent 3 years in California, where he focused on school, painting and experiencing nature. In 2004 PESU decided to relocate to New York City, since doing so he has had many achievements including winning the Art Battle competition on 3 occasions, appearing on MTV, and working with high profile brands such as NIKE iD, COACH, Lacoste, Anvil, J.Crew and more.
PESU can be seen painting live at Freedom Dance Party in New York City every 2nd and 4th Friday of the month and his work can be viewed at PESUART.com. Several restaurants in New York City feature PESU artwork and murals including the private members only Bohemian, J's Bar at 137 E. 45th, Club ViVi at 248 E.52nd and Mannahatta at 310 Bowery.
The Transit Messenger bag is roomy, and offers a dedicated laptop compartment that easily fits laptops up to 17 inches. The laptop compartment is accessed at the back of the bag, no need to lift a flap to access your computer, and features super-cush foam protection on both sides of the compartment. The laptop is protected from outside elements and gear stored inside too.
ABOUT SLAPPA
Established in 2002, SLAPPA Distribution, LLC engineers, manufactures and distributes innovative products, offering the highest quality backpacks, laptop bags, sleeves and specialty cases for CD and DVD collectors, DJ's, Pro Audio users, Gamers and photographers. SLAPPA has earned a reputation for offering dependable, quality products with unparalleled performance. The company has been recognized for its excellence by leading consumer publications and sites, both in the U.S. and abroad. SLAPPA products are currently available in 14 countries around the world. SLAPPA, LLC continues to actively expand its domestic and international presence with new and innovative products.
For more information on SLAPPA products including purchases, distribution and our affiliate program please visit http://www.slappa.com