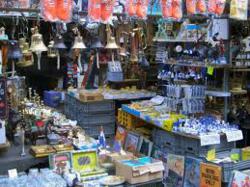 (PRWEB) September 30, 2012
Wholesale Closeout University has been launched by Donny Lowy, the CEO of CloseoutExplosion.com, a Brooklyn, New York overstock and liquidation business. The website offers free lessons, tips, strategies, and ideas for people involved in the buying and selling of wholesale, closeout, overstock, liquidation, and designer surplus merchandise. The website is published by an entrepreneur who has spent years supplying wholesale products to those involved in the closeout business. His customers range from New York clothing stores, New Jersey flea market vendors, Nigerian boutiques, eBay sellers, Caribbean clothing shops, and Lebanese shop owners.
"My purpose in creating Wholesale Closeout University is to provide free education to those involved in the closeout industry. The more knowledge available to market participants, the more efficient and profitable the industry will be for both buyers and resellers. I have published lessons based on my experience, experiences shared by my wholesale customers, overstock suppliers, and third party information which I have discovered through research," said Donny Lowy, who also manages WholesaleNigeria.com
This educational site is not an accredited university or educational institute, but it is a channel through which people can learn more about the industry. The wholesale website covers topics such as:
How To Market Your Wholesale Or Retail Business With T-Shirts
How To Generate Wholesale Orders With Cold Calling
Understanding The Wholesale Product Business Cycle
Using Pay Per Click Advertising To Sell Closeout Products
The Importance Of Having Testimonials
How To Gain Market Share For Your Liquidation Business
An Important Market Often Overlooked When Selling Overstock Merchandise
Why You Should Use An Answering Service For Your Wholesale Business
How To Really Design A Business Card For Your Wholesale Company
Tips For Coming Up With New Ideas For Your Business
How To Source The Newest Wholesale Products Before Your Competitors Even Know About Them
While there are many websites that publish wholesale directories or charge a membership fee for access to information on the wholesale industry, this site offers all of its knowledge database completely free.
In addition, wholesale shoppers can subscribe to the free newsletter on the site to be kept up to date with the latest wholesale closeout offers from CloseoutExplosion.com
The wholesale newsletter offers closeout deals on brand name merchandise such as wholesale Tahari corporate suits, BCBG party shoes, Polo Ralph Lauren dress shirts, Nautica sweaters, and other closeouts which can be seen in person at the wholesale warehouse located in Brooklyn. The warehouse is a source for liquidation merchandise for retailers from the United States, Canada, Argentina, Costa Rica, Nigeria, and many other countries.