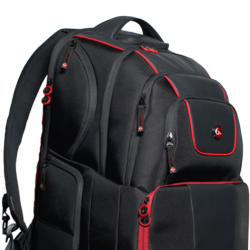 Las Vegas, NV (PRWEB) September 28, 2012
For its fourth annual appearance at the Olympia Expo in Las Vegas this weekend, 6 Pack Fitness, creators of the popular DURUS meal management system, will be previewing its brand new collection of products for the fitness and athletic community.
Officially launching in early 2013, the centerpieces of the 6 Pack Fitness Elite Collection will be the Voyager Backpack and Counsel Briefcase. Each will include the meal management system component that 6 Pack Fitness is known for, in addition to other convenient features for high performance athletes and bodybuilders on the go. The Elite line encompasses every aspect of life, from work, to the gym, to nutrition.
Growing exponentially since its first appearance at the Olympia Expo four years ago, 6 Pack Fitness is excited to share its groundbreaking new product line with the fitness community that has been so enthusiastic about the DURUS meal management system in previous years. After all, what better place to debut a bigger, more-defined 6 Pack than the Olympia Weekend?
Olympia Weekend attendees can preview the Elite Collection by visiting the 6 Pack Fitness booth. Everyone else can visit the company's Facebook page for an inside look at the new meal management line.
For more information, visit http://www.sixpackbags.com.