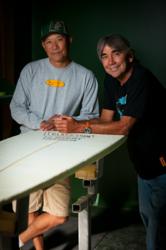 "Mana in humans is manifested as great skills, talents, strengths, intelligence and character. When using a KIALOA Paddle, that electric sensation one feels is the Mana. Keep Paddling."
- Gerry Lopez
Bend, Oregon (PRWEB) September 30, 2012
Gerry Lopez made his name surfing in Hawaii in the mid 70's and was famously dubbed "Mister Pipeline." Lopez is a craftsman of surfboards and has a line of SUP boards through Surftech and a new stand up paddle by KIALOA Paddles. Now living in Bend, Oregon Lopez struck up a friendship with neighbor Dave Chun, owner of KIALOA Paddles , and collaborated on a racing paddle, the Hulu Ultralight GL ™ that will be available January 2013.
On Thursday evening the best standup paddlers in the world were in attendance when Gerry Lopez was honored with the Lifetime Achievement award by SUP Magazine. Lopez was an early adopter of the new sport of stand up paddling. This gave the sport incredible validation having someone like Lopez promoting it. "He was a true ambassador of change," said Joe Carberry, editor of SUP Magazine.
Lopez never stopped being an ambassador for surfing, and now stand up paddling, even when he moved to the mountain town of Bend, Oregon hundreds of miles from the ocean. "You don't need to be on the water to surf," he says. "Surfing is a state of mind." His dedication to building fine surfboards and selflessly lending his name to numerous SUP events has helped the sport of stand up paddleboarding grow into what it is today.
Some may think that Gerry Lopez would be a no brainer pick for the Lifetime Achievement Award. After all, who else could possibly have impacted the sport more since its inception? Very few indeed have the credentials that Lopez has in the world of surfing and we thank him for being such an enthusiastic ambassador for the sport of stand up paddling. KIALOA Paddles is proud to call him a friend and honored to have been able to share in his passion and creativity in surfing and in life. Congratulations on your award!
Watch the video of Gerry Lopez and Dave Chun as they work through their creative process while coming up with innovative design.
KIALOA Paddles creates beautiful, innovative, handmade paddles produced in the USA since 1991. Our line of paddles includes outrigger racing canoe paddles, stand up surfing paddles, and dragon boat paddles.
KIALOA Paddles – 747 SE Business Way #6 – Bend, Oregon – 97702 – http://www.kialoa.com – 541-382-5355