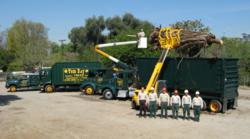 Most homeowners simply don't have the right tools or the training necessary to take care of the many different trees on their property
Upland, CA (PRWEB) September 30, 2012
Tom Day Tree Service is providing complete tree service in Upland, CA, to residents and businesses that are in need of tree maintenance in preparation for winter. With over 30 years of experience in the Upland area, Tom Day Tree Service is known as one of the leading tree care providers in the area. On top of residential services, they also offer services for commercial ventures including tree trimming in Upland . Trees are an important natural resource, and caring for them properly is everyone's responsibility.
Most homeowners simply don't have the right tools or the training necessary to take care of the many different trees on their property. If trees become neglected, not only will they begin to look bedraggled and unhealthy but they could also pose problems or become dangerous. Tom Day Tree Service offers consultations to residents to check on a tree and see if it can be saved by trimming off the bad areas or if the resident simply needs tree removal in Upland. Other Residential tree services provided by Tom Day Tree Service include tree removal, trimming, pruning, stump grinding, tree planting, power line clearing, palm tree clearing, and more.
Like residents, businesses also plant trees to increase the beauty of their property and to increase property value. Properly planting a tree can give it a better opportunity to grow and develop. Regular tree trimming in Upland is also important in order to keep trees healthy and strong. Tom Day Tree Service offers a variety of commercial services to help maintain business property including tree trimming, tree planting, tree removal, pruning, power line clearing, and pruning.
While trees do not require constant attention, they must be cared for in order to thrive. Many people don't think about having a tree trimmed until it is interfering with power lines, but trees often need more frequent trimming. Tom Day Tree Service offers tree removal in Upland by experienced and certified professionals so that disease doesn't spread to other trees or so that the tree doesn't pose a danger.
To learn more about important tree services the Tom Day offers in the Upland, CA and to get a coupon for $25 off of any job, visit http://www.tomdaytreeservice.com.
About Tom Day Tree Service:
Tom Day Tree Service has been taking care of trees in southern California for over 30 years. They offer professional services to residential and commercial property owners, and their trained tree technicians are fully licensed, insured, and bonded. From planting to tree health and tree removal, Tom Day Tree Service knows what it takes to keep trees healthy and beautiful. For more information on the services offered and other helpful information, please visit their website at http://www.tomdaytreeservice.com.
Contact Information:
Tom Day Tree Service
Phone: (909) 629-6960
Website: http://www.tomdaytreeservice.com